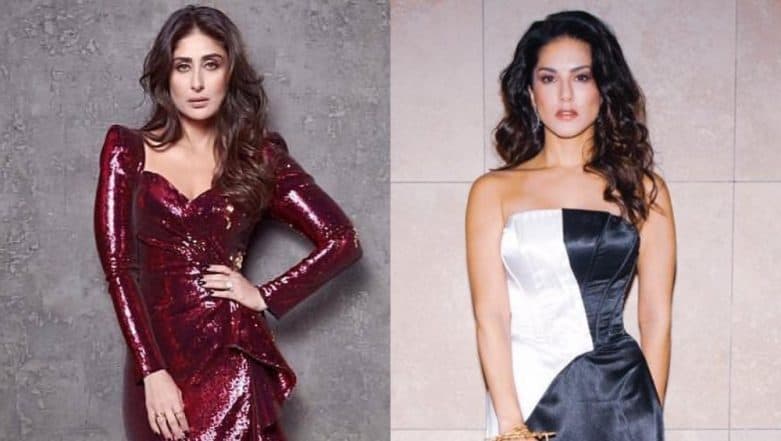 Kareena Kapoor Khan has started out a  new journey in her career as she has taken up the task to host a radio show. The show, What Women Want with Kareena Kapoor Khan, is two episodes down with the latest one featuring Sunny Leone as a special guest. The theme of the episode was 'choice' and who else could be a better choice than Sunny to talk on the subject matter. Kareena asked Sunny what she feels about the approach of people towards her in India and the latter said something that will give the most positive person on the planet a run for the money. Sunny Leone Sizzles With Husband Daniel Weber At Her New Song 'Lovely Accident' Launch! View Pics.
Responding to Kareena's question, Sunny said, "I think that people in India are not given enough credit for being open-minded." Coming from someone whose stage shows, at one point, faced protests and cancellation in Kerala, this sure is a lesson in focussing on the positive at all times. How Dare You? Kareena Kapoor Khan Reveals She Is Not Reviving Poo from Kabhi Khushi Kabhi Gham.
"I think that the media, journalists, TV shows, and newspapers kind of make you want to conform to what they believe, instead of what the entire country believes," Sunny continued, "because if I wasn't accepted or people didn't accept who I am or who I was when I came here, then I still wouldn't be here,"
Kareena was pretty impressed by the answer that Sunny gave, and we are too. We hope that you all can learn a lesson or two from what Sunny just said and maybe look around and reassess the society. We need to give the Indian society more credit for being open-minded.
Watch Kareena and Sunny's interaction here:
Do you agree with what Sunny has to say about Indian society? Stay tuned to Latestly for more updates.