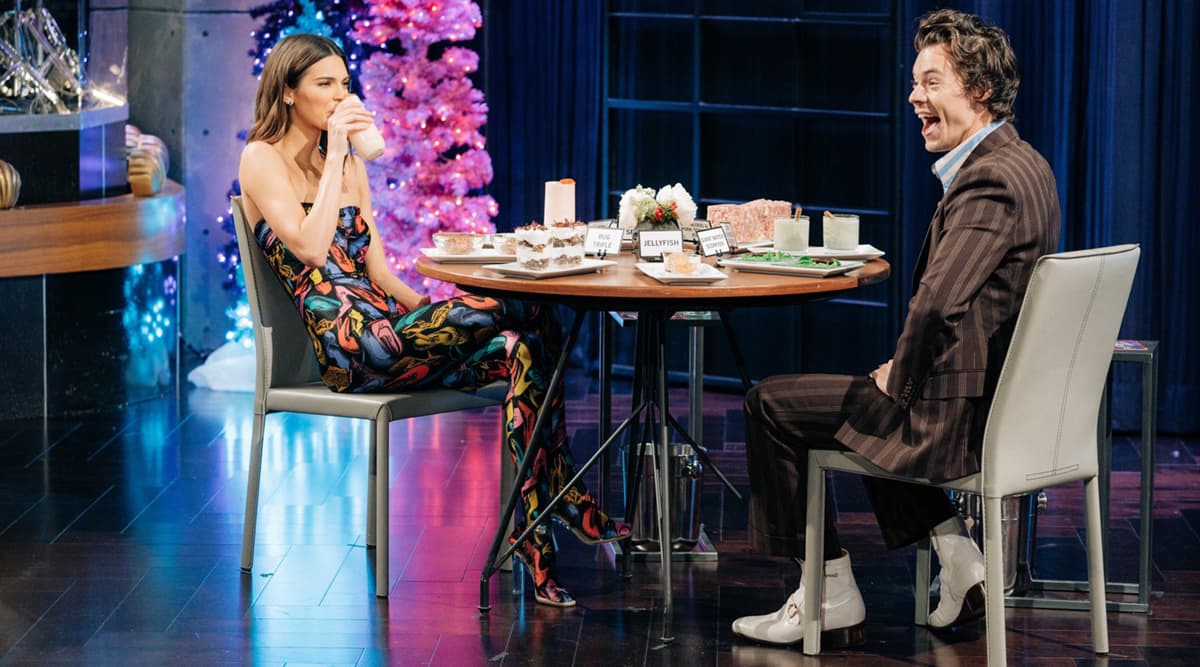 Harry Styles recently appeared as the guest host for James Corden's show and totally killed it. Fans are currently going crazy as his ex-girlfriend Kendall Jenner appeared on the show and wait this is not the big deal. The duo even indulged in a game of 'Spill your guts' and it is the best thing on internet today. While there was visible awkwardness between the "Watermelon Sugar" singer and Jenner, the game turned out to be hilarious. A few videos have now surfaced online and Twitterati are going crazy looking at Harry's reaction when during their fun game, Jenner asks him if any of his album songs were about her. Is Harry Styles' 'Lights Up' Song and Video About Sex, Drugs and Finding Own Self?
As per the game's rules, Styles has to either answer the questions or eat/drink all the weird food items presented to him. You'll be surprised to see the lengths to which Harry went to in order to dodge Jenner's questions. The former One Direction singe ate cod's sperm and scorpions to not answer some of these awkward questions.
Check Out Harry Styles Answering Kendall's Questions Here:
NEVER KNEW I NEEDED HARRY PLAY FILL OR SPILL YOUR GUTS SO MUCH IN MY LIFE#HarryHostsLateLate

— 𝐝𝐞𝐞 // 𝒇𝒊𝒏𝒆 𝒍𝒊𝒏𝒆 2 (@harrymoonchild) December 11, 2019
In the video, we see Kendall put the cod sperm in front of him and he says, "All in a day's work" and then while struggling to chew he further says, "To spit or swallow' f**k." While the video of Styles and Kendall's game is still not available to catch in India, from what we heard on Twitter, the British singer also commented on his 1D members. A user wrote, "So apparently Kendall asked harry his 1d rank and he answered 'zayn is my main bitch the others can go home' confirmed by me". Harry Styles Looks Exactly like Louis Tomlinson with His New Hairstyle and 'Larry Stylinson' Shippers Have Risen Again!
Harry recently also made his solo hosting debut on Saturday Night Live and it was loved by audiences. The singer not only killed it with his comedy but also performed his new single "Watermelon Sugar" on the show.