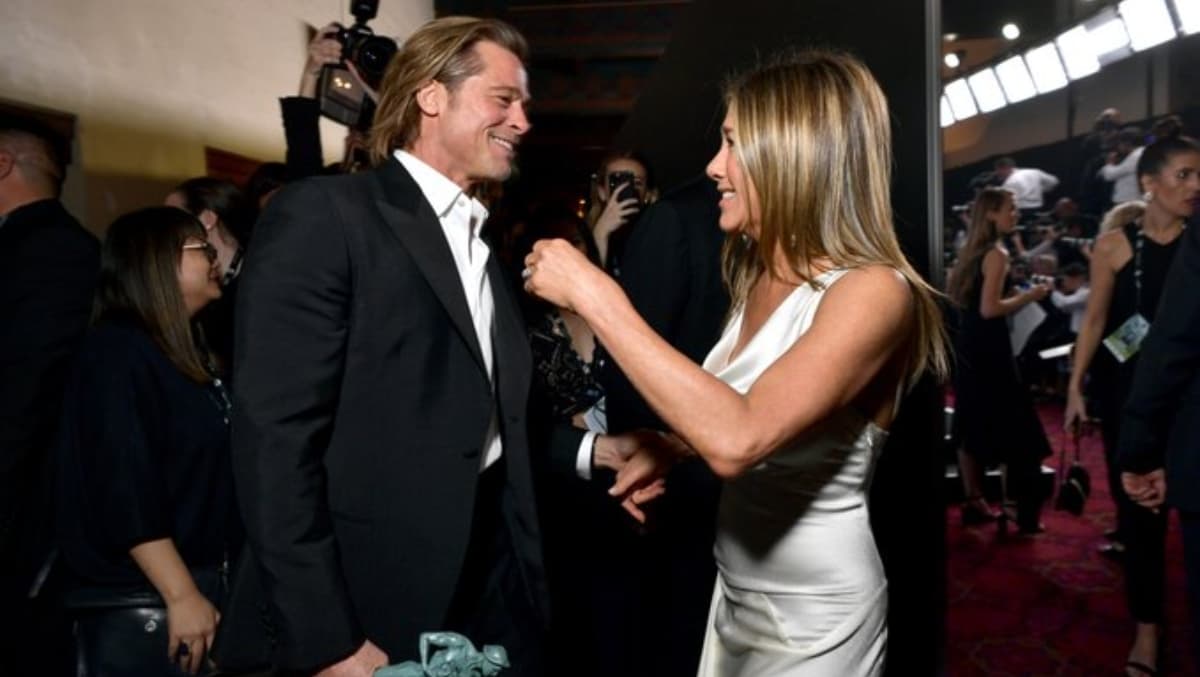 The award season kicked off with the Golden Globes 2020 and now another prestigious ceremony has taken place, the SAG Awards 2020. The Screen Actors Guild Awards, recognizing the best film and television performances were held in Los Angeles' Shrine Auditorium on Sunday, January 19. The awards once again gave us a chance to marvel at a perfect moment between Jennifer Aniston and Brad Pitt. The former celebrity couple came under the same roof again after Golden Globes for the SAG awards and a new picture of the duo is now doing the rounds that is driving netizens crazy. Golden Globes: Jennifer Aniston's Reaction On Brad Pitt's Acceptance Speech Wins Over The Internet.
The SAG Awards turned out to be lucky for Pitt and Aniston both considering the duo took home awards for Outstanding Performance by a Female Actor in a Drama Series (The Morning Show) and Outstanding Performance by an Actor in a Supporting Role (Once Upon A Time In Hollywood) respectively. What's cute though is that as Aniston accepted the award, Pitt who had just accepted his own award was seen stopping everything in the way to watch her acceptance speech. Check out how netizens reacted to this!
Check Out Jennifer Aniston and Brad Pitt's Picture Here:
Brad Pitt and his first wife and his good friend ☺️

That eye contact. That hands. That touch.

That smile. That everything.

OK,I'm screaming right now 😄#BradPitt #JenniferAniston #SAGAwards pic.twitter.com/eJFFefFg6v

— spycat (@ning_spycat) January 20, 2020
Brad Pitt Watches Jennifer Aniston's Acceptance Speech:
#BradPitt says "oh wow" and watches Jennifer Anniston's #SAGAwards speech backstage pic.twitter.com/Ng8WMnIwuJ

— Rachel West (@rachel_is_here) January 20, 2020
Iconic Moment of the Night!
Tonight's most iconic moment 😭 #BradPitt #jenniferaniston #SAGAwards pic.twitter.com/VdvyuHSOQB

— Ale Hardy Cavill (@AleqCavill) January 20, 2020
Get Back Together Already!
I will FOREVER want these two to get back together. I know they still love each other. Come onnnnn❤️#SAGAwards #BradPitt #jenniferanniston pic.twitter.com/KgbOpe2cF4

— It's about Tom (@abravolife) January 20, 2020
The year has just begun and it looks like we already have the photo of the year. This is a big moment given that since their divorce, the ex-couple reached friendly terms in 2019 and reports suggested that they were also spotted partying together at Jen's 50th birthday bash. Although, this picture has nearly got netizens emotional, probably even more than what a Friends reunion would do.