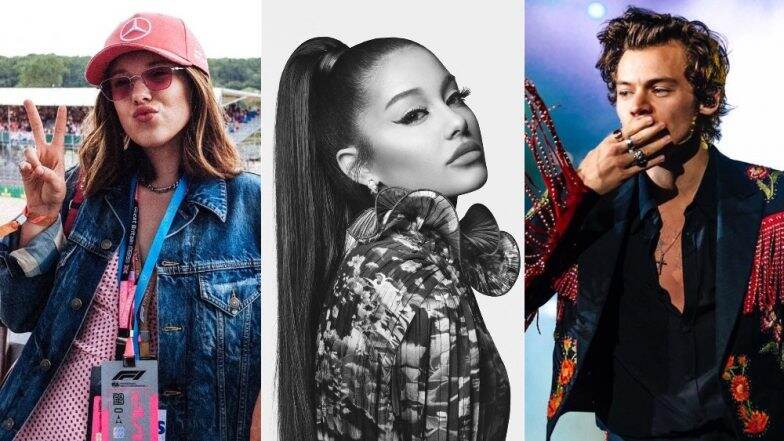 The O2 Arena in London was practically lit over the weekend thanks to Ariana Grande. The singer performed at the London hub as part of her Sweetener tour. But turns out that wasn't the only highlight from her concert. Among the plethora of Grande fans were Harry Styles and Millie Bobby Brown, who also attended the concert. Moreover, the two stars even danced the night away with each other while Grande performed some of her hit songs. Of course, fans could not chill as Styles and Bobby Brown dancing together became the hot topic of the concert! Harry Styles Proves It's a Fashion Era for Men at Gucci Show
As soon as Grande started crooning to the tunes of "Dangerous Woman", Styles and Bobby Brown had no chills as they started dancing to the song. Twitter users instantly took videos of the whole episode and started circulating it on social media. Of course, after their dance session, Harry Styles and Millie Bobby Brown also engaged in conversation, something that fans did not miss to record. Now we don't know what their conversation could have been about but we sure are curious to know on what note they got along! You too can check out videos from the night below. Stranger Things' Millie Bobby Brown and Romeo Beckham are Dating! How Old is the Celebrity Couple?
Watch Video:
EVERYONE NEEDS HARRY STYLES FULL ON BOOTY POPPING AT AN ARIANA GRANDE SHOW ON THEIR TIMELINE pic.twitter.com/bC4lfR2j7W

— em (@stylesscrabble) August 17, 2019
millie bobby brown out here laughing and joking with harry styles at an ariana grande concert and she is my age,,, where did i go wrong 🤡 pic.twitter.com/cGJ7p5OZwL

— ella ♡ (@velvetmmith) August 17, 2019
Currently, while Millie Bobby Brown is basking in the glory of all the accolades she has received for her performance as Eleven in Netflix's sci-fi thriller, Stranger Things 3, Harry Styles is figuring out what next to do in his film career. You've probably heard this but in case you haven't the handsome actor who made his debut in Christopher Nolan's Dunkirk, politely declined the role of Prince Eric in the live-action of The Little Mermaid. While Disney has already roped in R&B singer Halle Bailey to play Princess Ariel, the studio is yet to confirm who will play the prince and a few more cast.