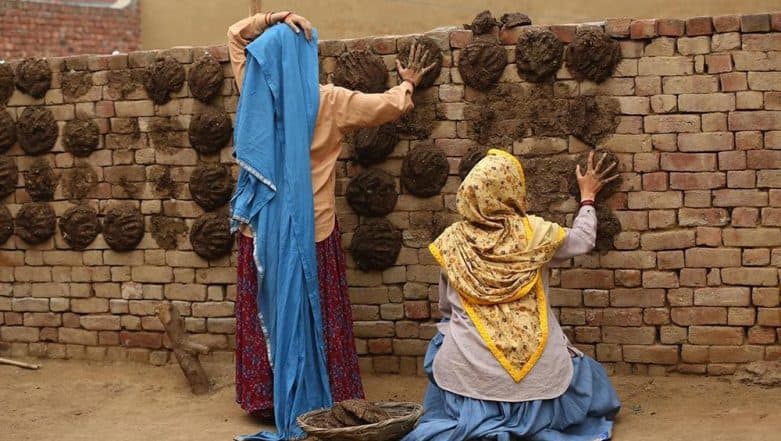 Two of the most talented actresses in the Hindi film industry - Tapsee Pannu and Bhumi Pednekar will be coming together for a project and we are rooting for it already. Both Tapsee and Bhumi have started working on the project and this afternoon, one of them shared a still from the sets of the film. Even though we can't see their faces as they are seen showing their back in the pic, it is evident that they are in a village putting cow dung on the walls, Their attires are also the ones that are typically worn in villages. So its kinda obvious that the ladies have shed the glamorous avatar and gone de- glam for their roles in the movie. Taapsee took to Instagram to share the pic and captioned it as: "ख़ुस्बू आन लाग री है...... दिखे कुछ कमाल का पक रेहा है.... what say @bhumipednekar." Usually when there are two actresses in a movie, there are reports of them not getting along very well. However, things seem to be perfectly fine between Bhumi and Taapsee. Badla Movie Review: Amitabh Bachchan and Taapsee Pannu Talk Their Way Through This Highly Immersive Thriller With a Killer Twist.
Meanwhile, check out the new still from the sets of the film right below:
As for the plot of Saand Ki Aankh, nothing much has been revealed so far. Bit what we do know is that the movie is based on UP-based octogenarian sharpshooters Chandro and Prakashi Tomar and is going to be shot shot in Uttar Pradesh. "Taapsee and Bhumi were to prep for a month, following which the film was to be shot in Uttar Pradesh. The movie required antique weapons that were proving to be expensive. The makers were breaching the budget. Also, given the indefinite delay, the actors eventually moved on to other projects. It will be tough to reschedule their dates now," a source informed told a leading tabloid earlier.