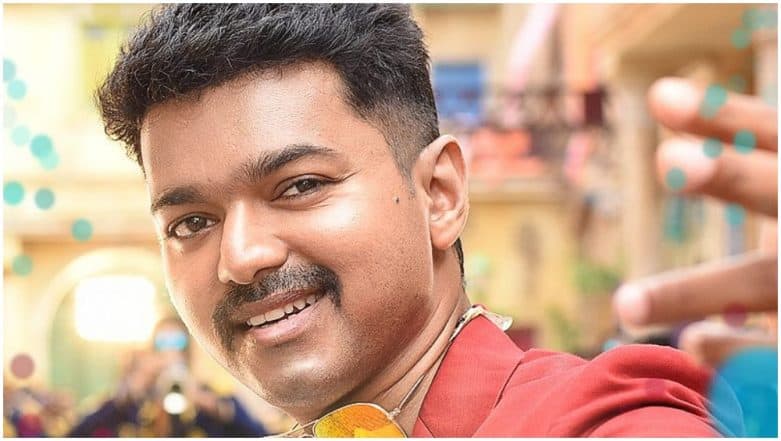 #RIPActorVIJAY and #LongLiveVijay is all over Twitter. Fans of south actor Vijay can go to any extent for their favourite star. Currently #LongLiveVijay is trending on top after haters of Vijay started trending #RIPActorVIJAY. It did not take much time for fans to come in rescue for their Thalapathy and that's how the trend started. Twitterati have gone berserk against the haters of Bigil actor have also mentioned in their tweets to stop spreading negativity and such fake news. Bigil Song Singappenney: Vijay-Nayanthara's Track Crooned by AR Rahman Is Highly-Inspirational! Watch Video.
Thalapathy Vijay's pictures have been shared across Twitter and it is also been clarified that he is all fine. There were some of them who were left confused and shocked after the trend #RIPActorVIJAY started trending. This isn't the first time that haters have posted against Vijay. This trend started by Ajith Kumar's fan clubs was just to prove about Thala's stardom. Even previously the two fan clubs have engaged in war of words and started to trend something really unexpected. The War Is between Vijay and Ajith Fans! Twitterati Use Vadivelu's Pics and Trend #VanduMuruganAJITH.
Tweet #1
#LongLiveVIJAY Trending #1

Thanks to Ajith Sir Fans 😉😉😅😅 pic.twitter.com/iW5hokVUES

— Rafee_Official (@RafeeVJ) July 29, 2019
Tweet #2
Just crossed!!!!

I think within 1 hour we crossed their tag, now they may realize our thalapathy power!!!! @actorvijay thailaiva u r our living God, we wont let u down!!!! #LongLiveVijay pic.twitter.com/H0VIO0QLRV

— sathish troomer (@SathishTroomer) July 29, 2019
Tweet #3
#LongLiveVijay Anna 😊 pic.twitter.com/RIvkUTppXs

— Ajith Kumar _BIGIL (@TheriAjith7) July 29, 2019
Tweet #4
Ignore negativity #thalapthy pic.twitter.com/LrKppTARgm

— Prajith (@PRjitH_) July 29, 2019
Tweet #5
Our love is Unstoppable💓

Our power is Unbreakable💪

Trending in India #LongLiveVIJAY #LongLiveVIJAY pic.twitter.com/0QDRvhgyCy

— Akshay(Vijay Bhakthan) (@AkshayV41765558) July 29, 2019
Tweet #6
Ennoda Annan...!!

Ennoda Thalapathy...!!

Love You Anna

#LongLiveVIJAY pic.twitter.com/Q79MlHD7E5

— Alan Jacob Vfc (@pokkiri_Fighter) July 29, 2019
Tweet #7   
Thank You Haters You Made Others To Love Our DEMI GOD THALAPATHY VIJAY More Than Your Star ! ♥️ #LongLiveVIJAY pic.twitter.com/XySukoXTzF

— Comrade VIJAY (@_ComradeVJ_) July 29, 2019
Ajith Kumar is gearing up for the release of Nerkonda Paarvai and his fans are trying to prove that Thala's film will be a hit. Meanwhile, Vijay who is all set to portray double role in Bigil, his fans have engaged in Twitter war and putting put posts for him to convey he is the biggest star and his film will be a hit. Well, such Twitter war especially between these two fan clubs will not come to an end anytime soon.