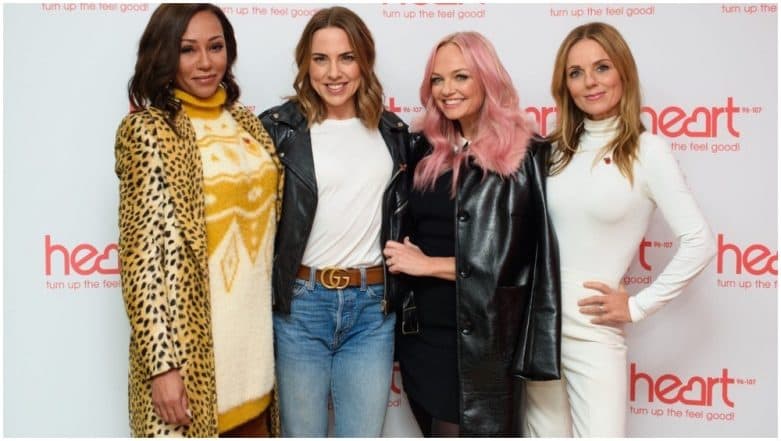 Spice Girls are back again! The British band of girls are regrouping once again for our nostalgia's sake much to the delight to all those music lovers, who have grown up listening to their music in the '90s and early 2000s. The group, consisting of Melanie Brown (Scary Spice), Melanie Chisholm (Sporty Spice), Emma Bunton (Baby Spice), Geri Halliwell (Ginger Spice), and Victoria Beckham (Posh Spice) have given many a hit when they were together. David and Victoria Beckham to Divorce? Twitterati Speculate After Bookies Stopped Betting on Their Relationship.
Spice Girls had taken a big break in 2000, before reuniting one time in 2007 and later in 2010-12. Now they have planned another reunion, something that has been in works since 2016. The Spice Girls took to Twitter to announce the sale of their tickets through a very quirky news announcement. The sale of tickets for the concert that will go off next year, will start from November 10 and tickets range from £60 – £135 for seats, and £75 for standing room only.
Breaking Spice news... Tickets on sale Saturday 10.30am #GirlPower #FriendshipNeverEnds pic.twitter.com/QmWrXOWLMd

— Spice Girls (@spicegirls) November 5, 2018
However, Spice Girls fans might be disappointed to know that not all 'Girls' are reuniting. Victoria Beckham is sitting this one out, as she confirmed her absence from the tour through an Instagram post. She wrote, "Today marks a special day for the girls as they announce the first tour dates since we performed together in 2012! I won't be joining my girls on stage again but being in the Spice Girls was a hugely important part of my life and I wish them so much love and fun as they go back on tour next year. I know they will put on an amazing show and the fantastic fans past and present are going to have a wonderful time!" However, Mel B did hint that she might make a surprise appearance in an interview where she said, " I hope Victoria will join us at some point. It'd be a shame if she didn't. She's just kind of not committing just yet. I'm hoping it's going to change, but definitely us four." Scary Spice Wants Katy Perry to Join Spice Girls Tour
So how excited are you for the Spice Girl reunion? Share your thoughts in the comments section below.