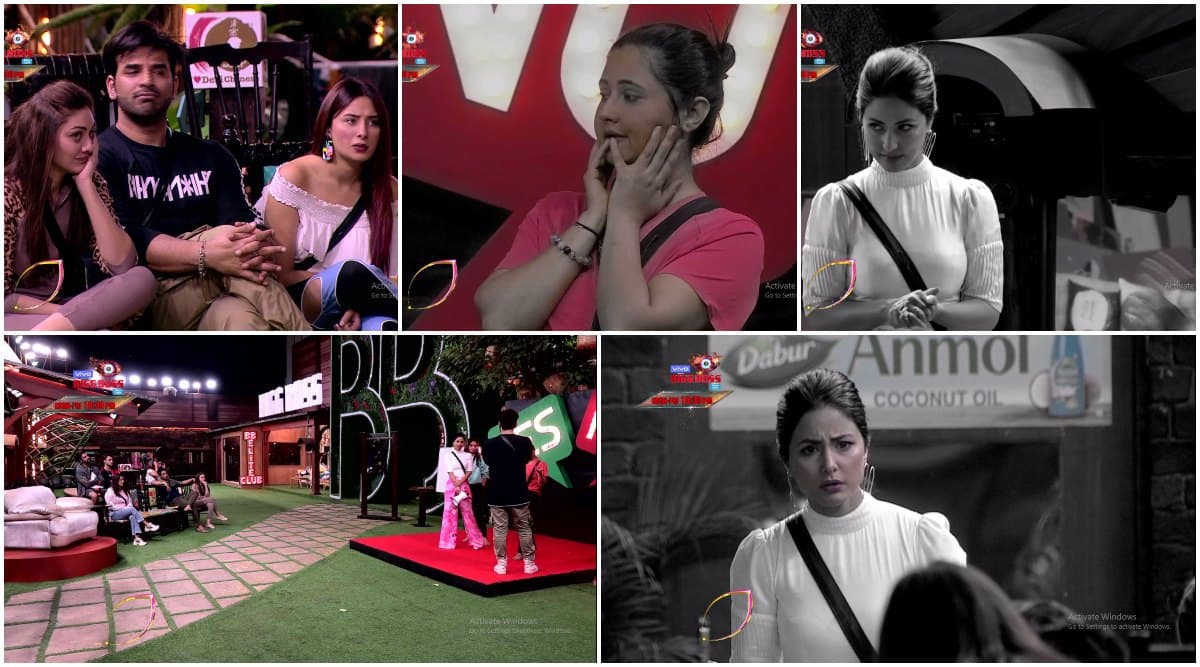 The latest task of Bigg Boss served the purpose of selecting the top two contenders who would compete against each other to become the next member of the elite club, after Asim Riaz. And the top two are on and off frenemies Arti Singh and Rashami Desai. Hina Khan enters the house to pick the next elite club member and this time around the housemates are required to assign difficult tasks to Rashami and Arti. But Arti's 'teammates' Paras Chhabra and Mahira Sharma aim for the impossible and ask Rashami to fulfil tasks that (in or opinion) are borderline impossible. Bigg Boss 13 Day 114 Preview: Sidharth Shukla and Asim Riaz Fight It Out in Front of Hina Khan and a Pissed Sid Wants to QUIT the Show (Watch Video).
Paras first demands that Rashami shaves in three lines of her hair from the side of her head to which she agrees. To top it all, Paras went on to claim that eating chillies and cutting Arti Singh's hair short (until her shoulders)hair were 'more difficult' tasks as compared to applying mehendi on Desai's face and asking the actress to cut three lines of hair into one side of her scalp. Do you hear yourself Aabra Ka Daabra Paras Chhabra? Bigg Boss 13 Weekend Ka Vaar Preview: Salman Khan Unleashes His Temper On Paras Chhabra After The Latter Argues With Him Over Mahira Sharma and Akanksha Puri (Watch Video).
Mahira then asks Rashami to apply mehendi on her face for a full 10 minutes to which Desai again agrees and accomplishes the task. Realising their folly, Mahira and Paras then demand that Rashami remove any and all makeup that she is sporting, to which both Hina Khan and Desai object, stating that this was not the condition before the latter agreed. Hina's support of Desai shocks Mahira and she is seen sulking in a corner.
Watch The Video Below:
Next up, Paras asks Rashami to shave off her eyebrows which leaves Hina Khan shocked and Shehnaaz Gill angry. Gill reprimands Paras and says that everyone is taking out their personal grudge in the name of tasks to which Paras retorts and says that he wants to gibe Rashami tasks where she will say no. Bigg Boss 13: Madhurima Tuli Claims Vishal Aditya Singh Made Her A 'Bitter and Negative' Person, But She Does 'Not Regret' Their Romantic Moments Inside The House.
Even Vishal Aditya Singh jumps to Desai's defence and says that Paras and Mahira are being unreasonable in their demands and Hina Khan is seen in utter disbelief. Shehnaaz Gill, being the 'dhaasu person' she is, asks Rashami to prove everyone wrong and shave off her eyebrows. However, the cliff hanger here comes in the form of whether or not will Desai give in to their demands. Did we mention how much we loved Gill in that moment?
However, do you think that Paras and Mahira are justified in demanding that Desai shave off her eyebrows or apply henna on her face considering how both the tasks will have long-standing effects on the popular television actress' appearance? Also, what needs to be taken into consideration is how Vishal Aditya Singh's chosen task for Arti was that she chop off her long locks till shoulder length and Shefali Jariwala asked her to eat 20 green chillies, both of which were manageable as compared to the tasks that Desai was assigned. Bigg Boss 13: Vindu Dara Singh Abuses Asim Riaz, Latter's Brother Thanks The Makers For Removing That Bit From The Episode.
Are Paras Chhabra and Mahira Sharma Justified In Asking Rashami Desai To Shave Her Eyebrows Off?
17%
Yes, They Are Totally Justified In Their Demands.
83%
No, They Are Simply Playing Dirty
What Paras and Mahira also need to take into consideration is if they were in Rashami's position, would they probably not accept these tasks in the first place? And while neck-to-neck competition if acceptable, the tasks assigned to Desai could change her appearance on-screen and being an actor, appearances are foremost important, not just to Desai, but to everyone. In a nutshell, Mahira and Paras should understand that they too can't apply mehendi on their faces or shave off their brows and roam around on national television!