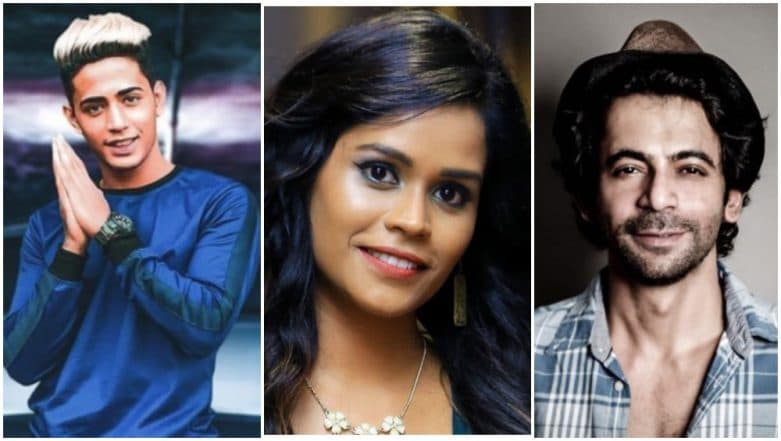 Hey, Friday is here! And it's time that we take a look at the top 5 news of the week. while a lot has been happening in the telly land this week, here are 5 things that you can't afford to have missed this week. From Sunil Grover's Kanpur Wale Khuranas going off air, late Danish Zehen's Instagram account being reactivated to Dhinchak Ishqbaaz' actress Manjiri Papula turning negative, making way for the new female lead, who will be paired alongside Nakuul Mehta (who is a superstar in the show), here is a round-up of TV's newsmakers! Dipika Kakar, Srishty Rode, Navina Bole – Take a Look at the TV Newsmakers of the Week
Danish Zehen's Instagram Account Reactivated; Fans of The Late YouTuber Rejoice!
Ace of Space contestant Danish Zehen died in a car accident on December 20. The lifestyle blogger was quite popular on Instagram with 876K followers but the number saw a rapid increase post his death as his followers had increased to 1.5 million in a span of just two days. But, Danish's fans were left baffled when Instagram deactivated his account. This created quite the furore on social media. Danish's family too was left disappointed, so much so that his brother sent emails to the social media giant. Then followed a request from Danish's Ace of Space mentor Vikas Gupta himself, who requested Instagram to re-activate his account. Well, all that efforts finally borne fruit as Danish's Instagram account was re-activated, which now stands proudly with 1.7 Million followers.
Manjiri Pupala to Turn Negative in Ishqbaaz: Pyaar Ki Dhinchak Kahani; New Female Lead to Be Introduced Soon
Star Plus' show 'Ishqbaaz: Pyaar Ki Dhinchak Kahani' has recently had a generation leap, which saw most of the front-line cast axed, with the exception of Nakuul Mehta. Actress Manjiri Pupala has been roped in to play Nakuul's love interest in Dhinchak Ishqbaaz. But, recently, rumours were rife that a new female lead is being considered to replace Manjiri, who is currently seen playing the role of ACP Aditi Deshmukh in Ishqbaaz. However, an online entertainment portal now reports that Manjiri will be not be axed but moved to a negative role, while the new lead will play the love-interest on the show opposite Mehta's character, Shivaansh.
Kanpur Wale Khuranas Going Off Air! Sunil Grover Says, 'We Achieved The Unachievable With The Show!'
Comedian Sunil Grover's Kanpur Wale Khuranas is all set to shut its shop very soon.  Yes, you read that right! It has been only a couple of episodes and Kanpur Wale Khuranas is all set to go off-air. However, it was always meant to be a short journey of only 16 episodes, revealed Sunil to Pinkvilla, as he only had a gap of one month for his TV show. He told the portal that he had signed up for a mini-series with the channel as he had to also shoot for Salman Khan's Bharat. The chat show in its short but eventful existence, saw A-Lister television and Bollywood celebrities grace the show for promotions and also saw them have a whale of time on the show.
BARC Report: Naagin 3 Dethroned From Top Spot; The Kapil Sharma Show Makes a Splashing Entry!
The TRP list showcasing the most watched TV shows for the first week of 2019 was recently out and Ekta Kapoor's supernatural show Naagin 3 has not featured in the top 5 most watched shows. Yes, Surbhi Jyoti starrer Naagin 3, which was in the first position ever since it's premiere, has lost its throne to the reality shows like Star Screen Awards 2019, Super Dancer Chapter 3, among others. Of course, it came as a shock to all of us that Naagin 3 not only got dethroned from number one place but slipped to the seventh spot. Interestingly, comedian Kapil Sharma's comeback show, titled The Kapil Sharma Show, made an entry into the top five. Looks like, the audience has shifted from fiction shows to reality shows.
Kulfi Kumarr Bajewala's Mohit Malik Undergoes Six Stitches Yet Continues Shoot With an Injured Hand
Actor Mohit Malik, who is currently seen as Sikandar Singh Gill in the StarPlus show, Kulfi Kumarr Bajewala, recently injured himself on the sets while shooting a scene. Reportedly, the actor, who has been shooting round the clock for the family drama, was filming for a rather intense scene with Anjali Anand and hurt himself in the process. However, the injury didn't stop Malik from working. Talking about it, Malik, in a statement to News 18, said, "We waited for 20 minutes but the bleeding wouldn't stop. So, in the middle of the shoot, I was rushed to a hospital where I got six stitches. It is weird to have stitches on your hand because it gets difficult to do any daily work. But as they say, the show must go on, so I'm back on set and shooting." Watch this space for further updates.