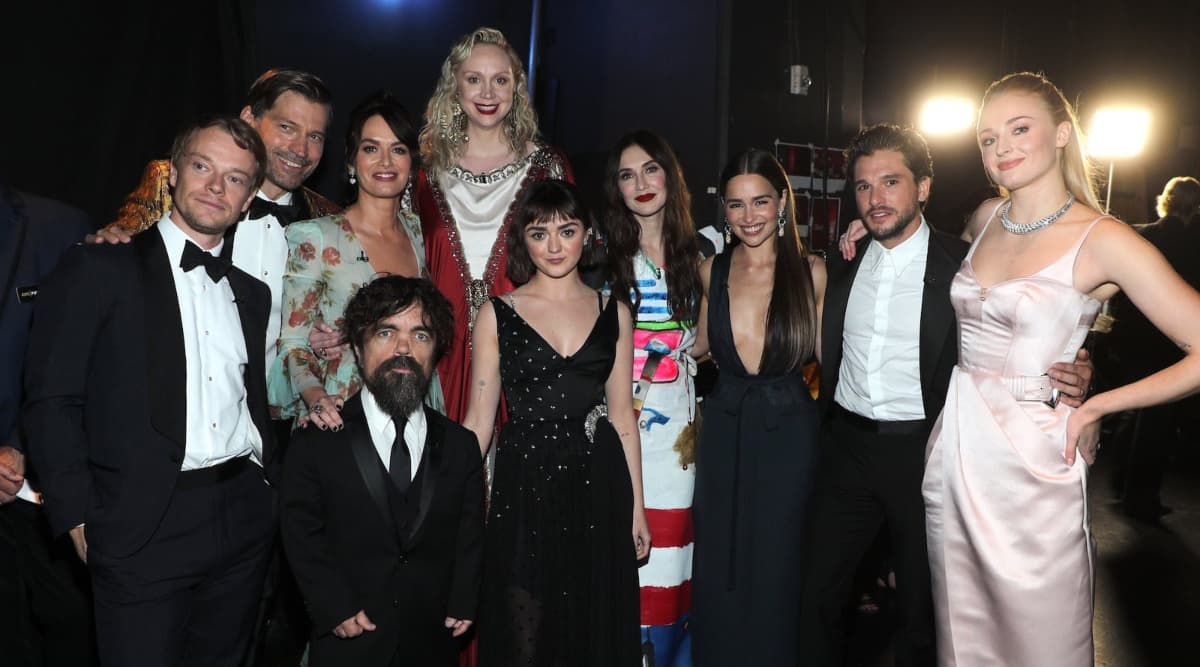 One of HBO's biggest shows, Game Of Thrones wrapped up its final season in May 2019. The show based on George RR Martin's fantasy fiction novel, A Song of Ice and Fire entertained the audiences with its engaging story and stellar casting for over eight years. The popular series won one of the biggest honours of the night at Emmy Awards 2019 as it took home the award for Best Drama series. Even as the final season of the show had left fans divided, this win seems to have got a lot of them emotional. Emmys 2019 Complete Winner List: Game of Thrones, Fleabag, Chernobyl, Ozark Win Big at 71st Primetime Emmy Awards.
Apart from the series, actor Peter Dinklage also took home the award for Best Supporting Actor in a Drama series. This being his fourth consecutive win in the category and the last for his character of Tyrion Lannister is certainly special. Showrunners David Benioff and DB Weiss accepted the award for the drama series saying, "These last 10 years have been the best years of our lives, I can't believe we did it, we shall never see it's like again. Thank all of our lovely and amazing cast you make everything we write better," said showrunner Dan Weiss. Here's how netizens are reacting to this win. Emmys 2019: Game Of Thrones Stars Emilia Clarke, Sophie Turner, Kit Harrington and Other Rock the Red Carpet in Stunning Avatars (View Pics).
GOT's Deserving Win:
#GameOfThrones needed to win if the #Emmys are serious about celebrating television and event television, bc a show which was appointment viewing as #GOT was, won't happen again.

— MikeMikeAndOscar (@MMandOscar) September 23, 2019
And Now Our Watch Has Ended:
And now our watch has ended! Loved this show, always will, amazing cast and crew, this is a wonderful farewell... ❤️❄️⚔️🔥❤️#GoT #GameofThrones @GameOfThrones https://t.co/ZFOEhxIwtf

— Berni Ponta 🌎🌍🌏 (@BerniWpg) September 23, 2019
Pity Win?
Pity win for #GameOfThrones

— Liam Macdonald (@LHM1983) September 23, 2019
Not the Best Season But the Best Show:
It was their worst season yet I've always said #GameOfThrones was so good overall, it could only be benchmarked against itself. I thought Succession was better this season, but Thrones will always own a piece of my heart.

— Vaenerys Targaryen (@senoritav76) September 23, 2019
For the GOT Cast Not the Makers:
The actors deserve this, the writers/directors do not. #GameOfThrones #Emmys

— Monica Moser (@monicamoser) September 23, 2019
For Becoming a Worldwide Phenomenon:
Regardless of how people felt about s8, there's no denying that #GameofThrones deserves to be recognized for the incredible worldwide phenomenon it became. Congrats to everyone involved! 👏 #Emmys2019 #bestdrama pic.twitter.com/SikPDQfzHX

— Vanessa Cole (@vkcoleartist) September 23, 2019
Game Of Thrones was pitted against some amazing shows such as Ozark, Pose, Bodyguard, Killing Eve in the drama series category but it looks like the show managed to get the ultimate farewell that fans hoped it would get with this big win.