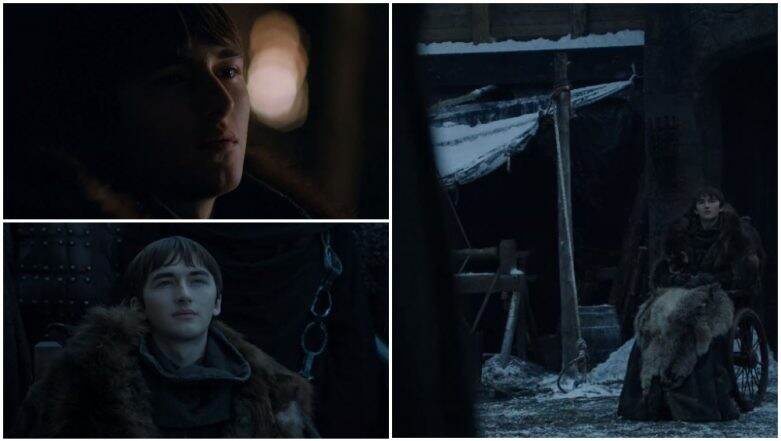 The three-eyed raven knows the past, lives the present and has a glimpse in the future. Bound to that wheelchair, Bran Stark has seen the world around, more than anyone has ever experienced. While we were waiting for Bran to spill the truth to Jon Snow of him being the true heir of the Iron Throne as Aegon Targareyan, it was Samwell Tally who got to do the task. Despite having a lesser screen space on the premiere episode of Game of Thrones, that was launched today, Bran the Raven is trending on Twitter with the hashtag #Bran. Game of Thrones 8 Episode 1 Review: From Cheery Reunions to Bronn's Foursome to the Night King's Evil Message, a Recap of What Happened in the Premiere Episode of Final Season.
From the darkest secrets to the most treacherous crimes, from reprehensible politics to the changing heads for the crown of seven kingdoms, Bran has everything unfurling right in front of his eyes. The young prince of Winterfell was seen seated on his wheelchair on the gates of the kingdom, witnessing the arrival of many characters – including Jon Snow, Daenerys Targaryen, Tyrion Lannister and Jaime Lannister.
We know that Bran knows everything, but we were kind of expecting him to have a bit more screen time and also to be the one to spill all the hidden secrets to Jon. His encounter with Jaime raised the heartbeats of millions of fans and the show ended on a hyped note. Well, after this, we are waiting with eager eyes to witness the meeting of Bran and Jaime. Bran's intense gaze and omnipresence have got the internet talking.  Game Of Thrones Season 8: Here's How Netizens are Killing Time Ahead of the Premiere of Episode 1
Here's what the Twitterati writes:
# Tweet 1
Jaime and Bran was the reunion to beat all reunions #GameofThrones

— ManicPixieDreamGirl (@The_LeslieRenee) April 15, 2019
# Tweet 2
Bran was waitin on Jaime Lannister like...#GameofThrones pic.twitter.com/JohlMSCoq2

— SoothatsLaz (@JuliansmoovMDM) April 15, 2019
# Tweet 3
Jaime when he sees Bran #GOT #Gameofthrones pic.twitter.com/dA0zFq6AW8

— Paul Flannery (@Flangepdb8) April 15, 2019
# Tweet 4
The expected old friend as Bran said and that look 🤐#JaimeLannister   @nikolajcw #ForTheThrone pic.twitter.com/wfmcBsKuPG

— #إبرا (@Ibr4him96) April 15, 2019
# Tweet 5
Dude, Bran just creepily showing up everywhere and staring at everyone was freaking me out. #GameofThronesSeason8 pic.twitter.com/vuhYyaYqn1

— Nina Stango (@ninadottt) April 15, 2019
The first episode of the Game Of Thrones season 8 was premiered today. Fans across the globe witnessed the grandeur of the finale season. The 50-minute-long episode will be the talk of the town till the second episode will be released next week. Starring Kit Harrington, Sophie Turner, Massie Williams, among others, GOT is produced by HBO.