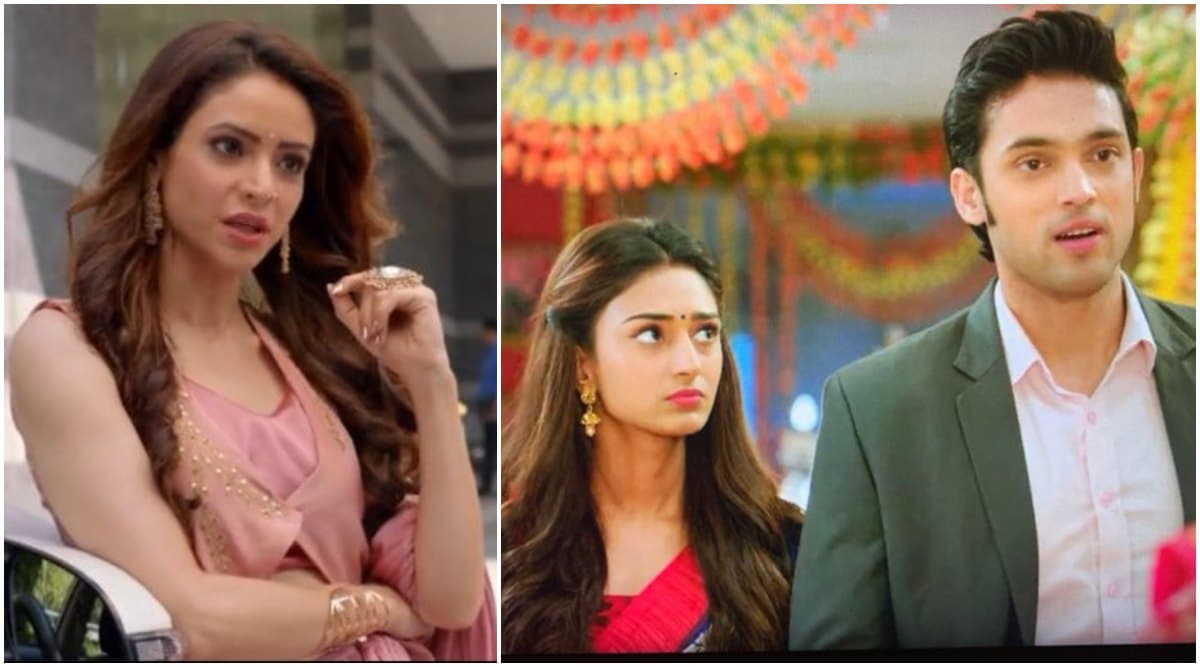 In yesterday's episode of Kasautii Zindagii Kay 2, Sonalika tells the police to search Prerna's house for the stolen money. Anurag berates Sonalika when  Prerna is found innocent. Anurag apologies Prerna for the same. In tonight's episode, we see Prerna (Erica Fernandes) requests Anurag (Parth Samthaan) to let the police check his study room once. Anurag apologies to Veena for the trouble they got into because of Sonalika (Aamna Sharif). Kasautii Zindagii Kay 2 December 10, 2019 Written Update Full Episode: Prerna Is Accused of a Crime by Sonalika but Anurag Proves Her Innocent.
In the Basu Mansion,  Moloy gets angry with Mohini and Nivedita. Moloy tells them how could they blame Prerna for the theft. Moloy tells he would have given the lost money to them. Moloy also says Rajesh is like a family to him and he is very upset with them. Just then the doorbell rings. Mohini gets up and tells Moloy now he will know the truth about Prerna. Anurag comes in with Prerna and the police. Moloy apologies to Prerna for what all happened. Prerna tells no need as Anurag was by her side. Nivedita questions about the bag to the police officer. To which the officer says they did not get the money bag in Prerna's house.  Mohini and Nivedita are shocked to hear it.
Anurag tells them that  Veena and all were telling the truth. Anurag tells the police to check their house once. The police officer goes with the house help to check the study room of Anurag. Moloy chides Mohini as before accusing they should use their brain at least. Sonalika is upset as to where has the money gone. Just then the police officer comes with a bag of money and shows them. Kasautii Zindagii Kay 2 December 5, 2019 Written Update Full Episode: Veena Decides to Tell Anurag About Prerna's Husband, While Sonalika Hatches a Plan.
Prerna taunts Sonalika and tells she looks more shocked today than that day when she got an electric shock. Prerna tells Sonalika that she was so overconfident and didn't even try to see once. Prerna unfolds how she managed to change the place of the bag. Prerna tells that she was furious and the way she shouted at Veena everyone will soon come to know the truth about her identity.
Moloy calls Sonalika and tells her that she has done a mistake by accusing  Prerna. Moloy tells Sonalika that she should apologies to Prerna. Anurag tells Sonalika to do as Moloy says.  Sonalika apologies and leaves from there. Prerna thanks  Anurag for supporting her.
Meanwhile, Sonalika is unable to bear the insult. Sonalika recollects what all happened with her and gets furious. Anurag comes into the room and sees some photos lying on the floor. As Anurag goes to pick it up Sonalika apologies Anurag for his behaviour and tells him to forgive her. Anurag request Sonalika that she should be good with Prerna as she is also a part of the family. While talking Sonalika picks up the photos and hides in her purse.
Prerna tells Shivani that this time she trapped Sonalika in her own plan. Prerna tells her she will not let Sonalika win this time. Prerna also says Sonalika will try to take revenge from her and she should be alert. Sonalika on the other side gets furious and is unable to control her anger. Sonalika tells Ronit that today again she was insulted and she cannot take it more. A vengeful Sonalika ploys another plan to kill Prerna. Sonalika tells that she will kill the unborn child of Prerna. Ronit vows that he will kill Prerna.
The next day morning Anurag calls Prerna and tells her to take a day off. Sonalika overhears him and gets upset as Ronit might be waiting for Prerna to come out of the house so that he can kill her. In the precap, Ronit sees Prerna coming out of the house and tells his driver to kill her.