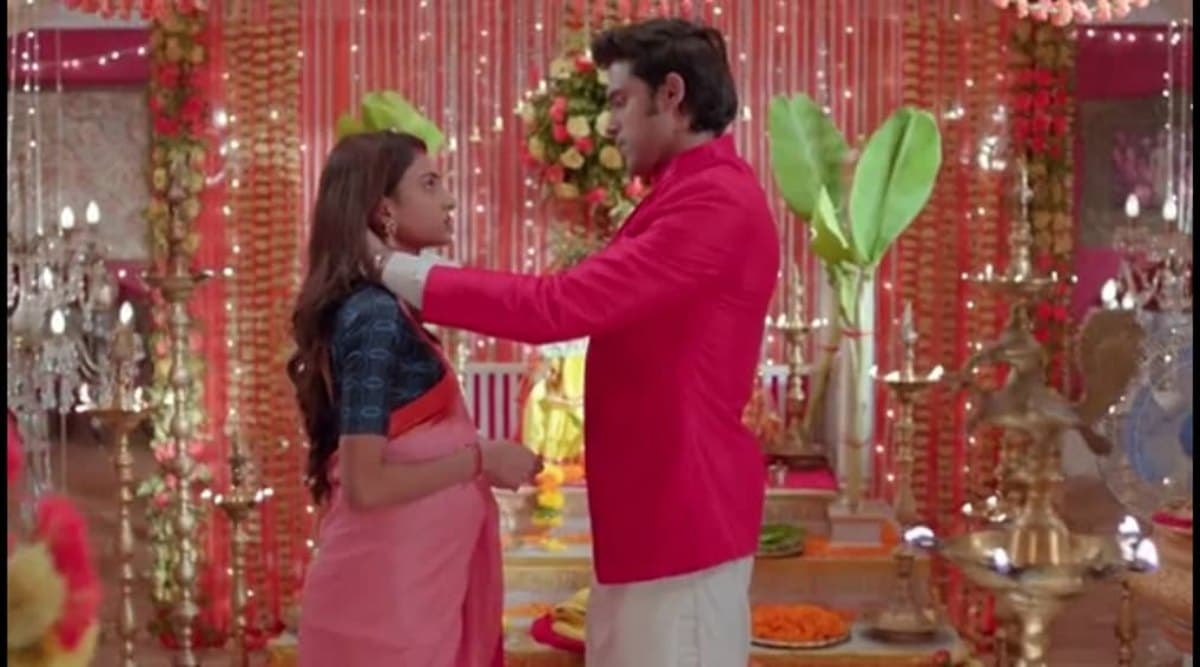 In yesterday's episode of Kasautii Zindagii Kay 2, Komolika accuses Prerna of theft, creating a big scene in the house.  Prerna is relaxed to see Anurag by her side. In tonight's episode, we see Anurag (Parth Samthaan)  tells the police officer that he cannot arrest a lady after sunset. Sonalika (Aamna Sharif) tells Anurag that Prerna (Erica Fernandes) has stolen the money and action should be taken against her. Anurag defends Prerna and says she is innocent. Anurag also says he has full faith in her and knows that she will not do anything like this. Kasautii Zindagii Kay 2 December 5, 2019 Written Update Full Episode: Veena Decides to Tell Anurag About Prerna's Husband, While Sonalika Hatches a Plan.
Mohini tells Anurag that the money is not there at home. Anurag makes her understand that they will find out about the money. Anurag tells the help to get a chair for Veena and tells her to relax. Anurag tells thanks to Shivani as she informed her on time. Anurag says he can take guarantee that Prerna has not done the theft. Kasautii Zindagii Kay 2 December 4, 2019 Written Update Full Episode: Anurag Confesses About His Connect With Prerna To Sonalika.
Sonalika asks him how can he be so sure. Anurag says he knows and trusts Prerna. Sonalika gets furious and says this is the company's money. Sonalika tells that they should check in Sharma house. Sonalika confronts Shivani and tells that maybe all the Sharma family is involved in this theft. She even says  Veena might be in this theft. Anurag gets upset and berates Sonalika to stay on her limits. Sonalika tells if they are innocent then why they are not allowing the police to check their house. Prerna tells Sonalika she can go and check their house. Sonalika tells the police to come with her to the Sharma house.
Prerna tells Anurag to let them check as she is innocent. Anurag apologies Prerna as he was not there with her in need. The police tell Anurag to come with them to the Sharma house. Sonalika also joins them. While going Shivani thinks that if Sonalika is so confident about the charges then she might have hidden the money in their house. Shivani tells Prerna about this.
Veena on the other side, tells Mohini that her new daughter-in-law is worse then Komolika and that she deserves such people in her life. Sonalika is happy as everything is going according to her plan. Komolika had pre-planned all these and managed to keep the stolen money in Sharma house before accusing Prerna.
In the Sharma house the police search for the whole house. Anurag and all wait down.  Anurag tells Sonalika how can she accuse Prerna. Sonalika tells if they don't get money here then she will apologies Prerna. The police go up in Prerna's room to check. Sonalika waits impatiently for the right moment. Just then Anurag sees a family album and picks it up and throws it aside so that he can see it later. Komolika sees this and goes and picks up the photo and hides in her purse.
Meanwhile, the police get the bag inside one of the cupboards. Komolika tells Anurag that he should see for himself. As the police open the bag they find clothes in it. Komolika is surprised to see it and tells how is it possible as money was inside this bag.  The police leave the Sharma house as they did not get the money. Anurag berates Komolika to stop accusing Prerna and tells her to apologies to them. Komolika gets angry and apologies to Prerna. Prerna tells Anurag to once check his study room. In the precap, Komolika is trapped in her own plan.  Komolika gets furious and tries to kill Prerna.