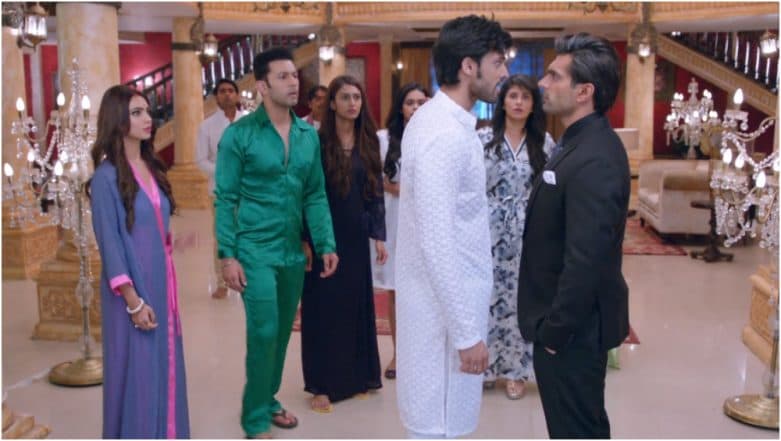 In yesterday's episode of Kasautii Zindagii Kay, we saw Anurag makes some shocking revelations regarding Mr Bajaj while the latter befriends Prerna. Later, Sharda makes an unexpected entry during Anurag and Prerna's meeting on the terrace. Tonight's episode starts with Anurag (Parth Samthaan) telling Prerna (Erica Fernandes) that she is very special for him, Prerna says she wished they never met. Prerna notices someone is watching them and goes to see who is it but finds no one. Kuki comes down and calls Anurag to come closer and tells him to kiss her and she too kisses him back. Kasautii Zindagii Kay 2 September 3, 2019 Written Update Full Episode: Anurag Fails to Distance Prerna from Mr Bajaj Despite Trying to Badmouth Him Before His Ex-Lover.
Later, Anurag comes in his room, as he lies down to sleep, two men enter his room to attack. One of them checks his cupboard. The other man takes a pillow to suffocate him. Anurag hits him with a vase. The men try to run out. Anurag shouts and tells them to stop, everyone comes out hearing him. Anurag catches the man and asks who is he. Nach Baliye 9: Kasautii Zindagii Kay 2's Pooja Bannerjee and Swimmer Husband Sandeep Sejwal to Enter as Wildcards!
On the other side, Mr Bajaj (Karan Singh Grover) is on the way home and thinks about Anurag coming between Prerna and him which he does not like. Back the Basu household, Anurag says he had come to kill me. Everyone gets shocked. Anurag asks him to say the truth, who had sent him. The man runs out. Mr Bajaj comes there. Anurag says that the man took Mr Bajaj's name that he told them to kill Anurag. Sharda says we believe in our talent than our power, we don't kill to win, Bajaj has earned everything by his talents, he doesn't need to do such things, we don't cheat. Prerna says Mr Bajaj can never do this, there would be some misunderstanding. Anurag asks her to get the CCTV footage.
Later, Anurag gives a pen drive to Prerna and tell her to watch it so that she comes to know the real side of Mr Bajaj. She takes the pen drive and checks the CCTV footage. Mr Bajaj also comes there. She says the attacker attacked the same way as Anurag said. Mr Bajaj checks the footage. Prerna says if you are trying this, then please don't try to ruin his life and business. Bajaj says he has not done anything.
Next morning, Mr Bajaj greets Sharda. She says Ganpati has come home, we will do aarti soon. Mr Bajaj asks the servant to get black coffee. Prerna comes down wearing a saree, Mr Bajaj looks at her and admires her beauty, he thinks why he is feeling this attraction towards Mrs Bajaj.
In the precap, Tanvi says love triangle between these three, what do you think, Rishabh won't do anything if Anurag stares his wife. Mr Bajaj and Anurag argue with each other. Anurag and Prerna do the aarti together. Mr Bajaj looks on.