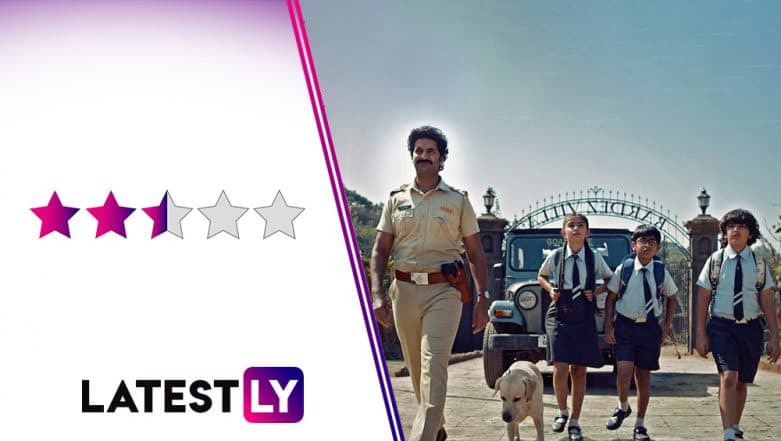 Web content is getting better with each passing day and the kind of storytelling that we witness on these OTT platforms are sometimes better and crisper than the big screens. After Radhika Apte's Ghoul, Nawazuddin Siddiqui's Sacred Games and Huma Qureshi's Leila, Netflix India is back with another riveting tale, Typewriter. Sujoy Ghosh's directorial stars Palomi Ghosh, Purab Kohli, Sameer Kochchar and Jisshu Sengupta along with child actors who are the real heroes of this horror series. Netflix Series Typewriter Trailer: Sujoy Ghosh's Ghost Drama is a Scary Ride You Don't Want to Miss (Watch Video).
The premise is a bit irregular. It all starts when Jenny (Palomi Ghosh) shifts with her family to her ancestral home in Bardez, Goa. A simple relocation turns baffling when people in her surrounding get killed under mysterious circumstances. What prompts her to solve the mystery of her ancestral mansion, why Fakeer (the ghost in this story) needs her to be resurrected and how do kids and why the typewriter gets involved in this mess is what forms the crux of the story.
Typewriter has its own 'yay' and 'nay' moments. It's a horror series and the ones who love this genre will go in with much curiosity and their sky touching hopes. However, pardon me to burst your bubble. The premise is scary, yes, but it won't satiate your appetite for fright. Sujoy has done a great in establishing a haunted premise that gets you eager beaver for each episode. The storytelling (not the story, more on that later) is gripping and thrilling. With barely five episodes in his hand, Sujoy has decently managed to put forward his thoughts and create a world that moves up and down like an ECG monitor.
As the narrative is set in Goa, the makers have done a fab job in getting the local mannerisms right. From their attires to native language and the overall body language, Sujoy gets a 10/10 for adapting it precisely and to the point. But when it comes to his direction, does he hate a linear approach? With Typewriter, he goes back and forth with his narration that's in sync with the past and present. Though viewers won't struggle to fathom each episode, yet the synchronisation of multiple events may take a toll on their minds after a couple of episodes. Netflix To Introduce Mobile-only Subscription Plan in India During the Third Quarter of 2019: Report.
And speaking of its storyline, I won't call it a refreshing approach. For me, Typewriter is very similar to Radhika Apte's Ghoul where a mysterious, unseen ghost called Fakeer has powers to kill you by absorbing your soul. Blame the director's vision or the way he presented his powerful ghost but I simply couldn't resist noting these similarities and it ultimately worked against me loving/liking the series.
Also, Sameer Kochchar and Elie Avrram's angle is unwarranted. The director may have a bigger plot for them in season 2 (if it comes) but for now, I am simply clueless about the need to involve this subplot. Their scenes are mood killer and I am still scratching my head to figure out its relevance.
However, my biggest disappointment is with its genre. It's a horror series for God's sake and you expect some spine-chilling moments. You want those jumpscares and loud background noises to get you the right feel and without these necessary elements, it's just a random project with thrills and no chills.
Performances 
As aforementioned, kids are the real heroes of this Netflix series. From Aarna Sharma (Sam) to Mikhail Gandh (Gaplu), Palash Kamble (Bunty) and Aaryansh Malviya (Nick) - they are the heart and soul of this series. They deserve all your attention and it's commendable to see the way they act as such a tender age.
Purab Kohli is convincing as Inspector Ravi Anand who's a wise cop and a hands-on father to Aarna's Sharma's character. Palomi Ghosh provides able support to the star cast and she's convincing as Jenny. The swift change in her dual characters come naturally to her and there's nothing that you won't like about her.
Sameer Kochchar is however wasted throughout (we already emphasized on this). His character made no sense and I am questioning the reason that prompted him to take this role. Jisshu Sengupta as the antagonist is his usual self. He will scare you but not to an extent that you will start reciting 'Hanuman Chalisa' in your mind.
Yay! 
Direction
Kids
Palomi Ghosh
Nay!
The story
Similarities to Ghoul
Only thrills and no chills
Sameer Kochchar
Final Thoughts
If you love horror movies and the effect they have on you, then I won't recommend this series to you. But if you are fine with a thriller that has some horror quotient thrown here and there, then go ahead and you may enjoy this one.