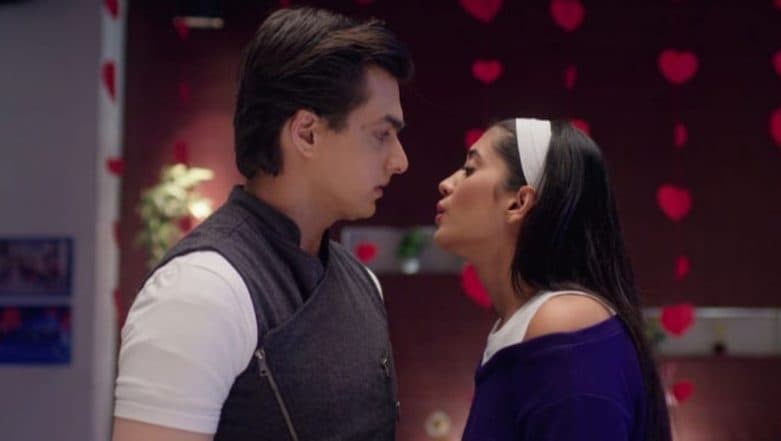 Today's episode of Yeh Rishta Kya Kehlata Hai starts with Kartik (Mohsin Khan) coming from his room, Manish asks him did he had his bath and did he washed his sins. There Naksh is asking forgiveness from Naira (Shivangi Joshi) as he was too harsh with her and should not have told so much and tells that the person with whom we love we shout at them and that one should not keep anything in mind and tell everything and whatever is there in our mind. Naksh asks her not to be silent and talk with him. Yeh Rishta Kya Kehlata Hai March 8, 2019 Written Update Full Episode: Naksh Gets Annoyed with Naira for Dancing With Kartik
There Manish is asking Kartik where was he and that he should have come home directly from the temple. Manish asks him why has he taken a pain killer is he having some pain or got hurt somewhere. Kartik thinks it is good that Manish does not know the truth. Manish sees the cut in Kartik's hand and asks how he got hurt.
Meanwhile, Naira is telling Naksh that she is not angry with him but is just upset and tells that she understands his concern but he doubts for everyone and does not trust anyone that is beyond her understanding. Naira tells that he had said that he is her brother, this is her family and her house, she accepted this all so why not let her also come to know something. Naira tells let her also make some mistakes and learn from it and that he is there to support and stop her but at least let her try first.
While Manish is shouting and asking Kartik why is he silent, Suhasini comes and ask why is he shouting at Kartik. Manish tells that something is going on his mind which is not right that is why he is silent. There Naira is telling thank you to Naksh as he had told the truth as whatever is in our mind we should do it and says that she will tell Siddharth about her feeling for him. Yeh Rishta Kya Kehlata Hai and Yeh Rishtey Hai Pyaar Ke to Have An Integration Episode on March 12! Deets Inside
There Manish asks Kartik what he is upto and if he cannot say it then to stop it whatever it is. Manish tells that whatever he is doing should not harm this or Naira's family and specially Naira. Manish asks is it related to Naira and tells that he does have objections regarding his love for her but he should not be foolish enough to complicate the things again and tells him to hope he is understanding him.
There Naksh sees Kirti crying and ask for the reason, she says that when they were in the temple and Naira had taken Krish from her hand and was trying to wake him up, does he remember what she was saying, she called herself Krish's mother. Kirti tells that she knows that Naira does not remember anything but subconsciously she thinks Krish to be her son and herself to be his mother. Naksh says that he understands her but that time she wanted to just wake up Krish and she was successful in doing it. Naksh tells her not to worry and that Naira was taking care of Krish as her brother's son and nothing else and goes from there.
There Kartik thinks that he will go and tell Naira everything but thinks he can't. Kartik thinks she has forgotten everything but remembers his love and that she will come for him one day. There Naira gets ready to meet Kartik. Devyani and Kaveri are telling Naksh that it is good that he spoke to Naira and cleared everything. Just then Rajshree and Vasha come, seeing them Naksh and all become happy. They greet each other and hug each other.
Rajshree sees Krish and feels very happy. As Naksh goes up to call Naira, Rajshree stops him and says that she is not able to face her as she cannot see her sad and tells that they will meet her later. There Naira goes out from the window and sees Rishab outside and hides and goes from there.
Devyani cries thinking about Misti, Rajshree comes and console her. Devyani tells that Misti hates everyone here especially her. Rajshree says it is not that she hates her and remembers all and flashbacks whatever happened as for why she send Misti with Rajshree. Devyani cries thinking all that.
There Kartik is seeing the video of the dance which he and Naira performed. Suddenly he hears some noise from the window and goes to see it. Kartik sees Naira trying to come in from the window (Oh more sahiyaa naina na beeteey mere track is played in the background). There Manish is telling Akhilesh that he is going to Kartik's room to speak to him about this and that they should make him busy in some project and he cannot say no to it and goes to his room.
Kartik brings Naira inside his room. Suddenly the lights go, Kartik hears Manish and Akhilesh talking and tells Naira to not to talk, as they go down to check as for why the lights have gone. Kartik asks Naira why she has come here taking so much risk, she tells that she has to ask something very serious and lights her mobile light and tells that she wanted to tell something about her heart and tells that she loves him. Kartik tells that she could have told this on the phone and why she had to come here to tell this.  In the precap, Naira expresses her love for Kartik, Naksh gets angry with Naira not finding her in her room and asks her where was she. There Manish questions Kartik as what is going on in his life.