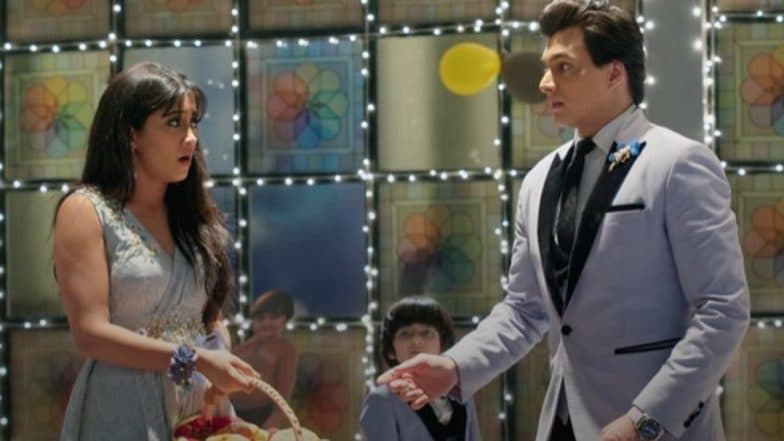 In yesterday's episode of Yeh Rishta Kya Kehlata Hai, we saw Kartik desperately tries his best to win Kairav's heart. In hopes of getting closer to his son, Kartik arranges a basketball match with Naira's help. Tonight's episode starts with Suhasini announcing the one who will first put the basket will be the winner. Team Naira (Shivangi Joshi) and Team Kartik (Mohsin Khan) gets ready. Kairav says to Naira that they have to win and fall down. Kartik rushes and consoles Kairav and makes him happy. Mohsin Khan and Shivangi Joshi's Yeh Rishta Kya Kehlata Hai To Take A Generation Leap In February 2020
Later, Kairav recalls Kartik hurting Naira and goes away from him. The match begins, Kartik deliberately loses the match. Kairav gets happy. Naira tells Kairav that they won because of Kartik. Kairav gets happy and says he knows. Meanwhile, Kartik and Naira talk with each other and argue childishly, Kairav overhear Kartik's talk where he was confessing that he was pretending to be decent in front of Kairav. Kairav runs back to his room and throws the stuff and says he hates Kartik, as he always hurts Naira.
On the other side, Naira bumps into Surekha and gets confused seeing medicines in her bag and wonders where she is going. All the family members are tired as after long they played a game, Manish teases them all, just then Kairav comes and demands Naira to order new father online. He says he does not like his father thus before Diwali he wants a new father. Naira tells Kairav to behave, Kairav says she always gifts something on Diwali and this time he wants a new father and leaves angrily. Yeh Rishta Kya Kehlata Hai November 6, 2019 Written Update Full Episode: Kartik Desperately Tries His Best to Win Kairav's Heart
Next day morning Goenka's prepare for Diwali. Suhasini is tensed, Swarna consoles her and tells her that everything will be fine and she should wait for the right time and think positive. Meanwhile, Naira thinks if she too can get some work to do and tells she wants to help, Suhasini ask Naira to decorate the puja plate. She further asks about Kartik, the house helper informs that he has seen Kartik going out from the house early morning. Vansh asks where is Kartik, Kairav asks Naira when will his new papa come as the old one always fight with Naira and trouble her. Yeh Rishta Kya Kehlata Hai November 5, 2019 Written Update Full Episode: Kartik Tries to Improve His Relationship With Kairav
Later, few men enter Goenka's house on the Punjabi beat and tell that they are there to deliver special delivery to Kairav. All are shocked at what is going on, the gift comes, Kairav opens the gift box and Vansh reads, Kairva's new father (munda kukudu kamal dha track plays in the background) Kartik comes disguised as Punjabi, Kairav gets happy to see his new papa. Meanwhile, Naira thinks why Kartik did this. Kartik dances with Kairav. Later, Kairav introduces his new father to Naira and other family members. Kartik meets everyone, and tells his name is Jolly Singh. In the precap, Kartik and Naira argue with each other while Kairav watches them.