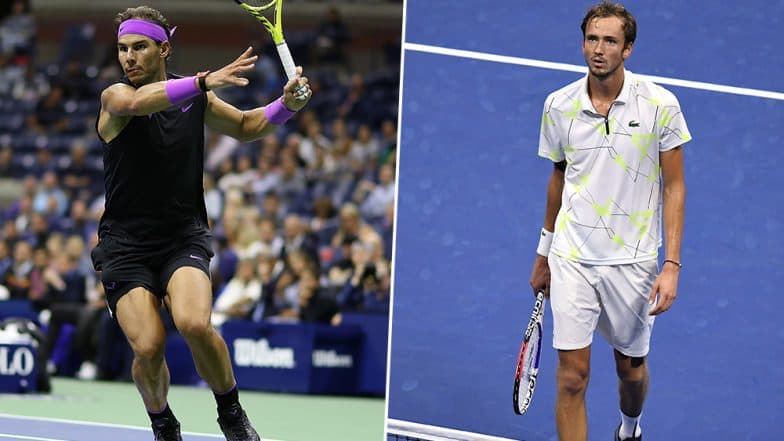 The final battle of men's singles in US Open 2019 will be played on Sunday, September 8 with Rafael Nadal taking on Daniil Medvedev. The US Open 2019 Rafael Nadal vs Daniil Medvedev final game at Flushing Meadows will conclude the last grand slam tennis tournament, which started on August 26. The Women's singles category saw Serena Williams losing out on her 24th grand slam title, with straight-sets defeat against young Bianca Andreescu (6-3, 7-5). Serena Williams Reacts to US Open 2019 Final Defeat to Bianca Andreescu, Says 'Could Have Played Better'. 
Other than Rafael Nadal vs Daniil Medvedev clash, women's doubles final will also be played on Sunday. Team of Ashleigh Barty and Victoria Azarenka are pitted against Elise Mertens and Aryna Sabalenka in the women's doubles final. Here we will look at all the remaining matches in US Open 2019 final, which will bring an end to the much-popular cricket tournament.  US Open 2019 Champion Bianca Andreescu Apologises For Defeating Crowd-Favourite Serena Williams in Women's Singles Final (Watch Video). 
Nadal has shown spectacular form in US Open 2019, defeating John Millman (6-3, 6-2, 6-2), Chung Hyeon (6-3, 6-4, 6-2), Marin Čilić (6-3, 3-6, 6-1, 6-2). In the quarter-final, the Spanish tennis star outplayed Diego Schwartzman (4-6, 5-7, 2-6). Finally, 33-year-old defeated Matteo Berrettini to book his place in the US Open 2019 final against Daniil Medvedev. Nadal is the winner of French Open 2019 and he will bag consecutive Grand Slam titles in 2019 if he emerges victorious in US Open 2019. Below are all the matches to watch out for in US Open 2019 on Sunday, September 8.
[2] Rafael Nadal vs [5] Daniil Medvedev

[8] Ashleigh Barty & Victoria Azarenka vs [4] Elise Mertens & Aryna Sabalenka
India tennis fans need to note that Rafael Nadal vs Daniil Medvedev, US Open 2019 final match will broadcast in India on September 9, 2019 at 1:30 am according to Indian Standard Time (IST). While Nadal eyes his 19th grand slam title, Daniil Medvedev will be seeking to bag his maiden grand slam triumph.