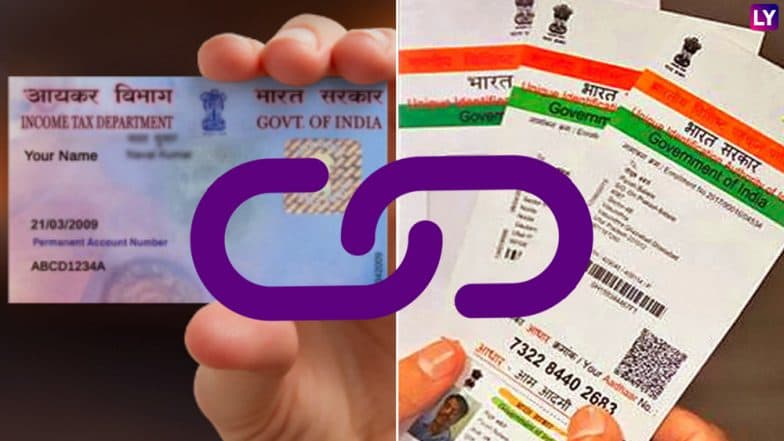 New Delhi, February 6: The deadline for Aadhaar-PAN linking is fast approaching and missing it may lead to the suspension of several important services. In July 2018, the Central Board of Direct Taxes (CBDT) had extended the deadline to link PAN with Aadhaar to 31 March 2019. This is the fifth time the government had extended the deadline for people to link their PAN to their biometric ID (Aadhaar). How to Link Aadhaar With PAN Card: A Step by Step Guide to Add UIDAI Number With PAN. 
Aadhaar is a unique 12-digit identification number issued to individuals by the UIDAI while PAN is a 10-digit alphanumeric number issued to assessees by the Income Tax Department. It is compulsory for an individual to furnish their unique Aadhaar ID while filing IT returns. Also, the Aadhaar-PAN card linking is made mandatory as well as the requirement of Aadhaar when applying for a new PAN card. Aadhaar Declared Constitutionally Valid by Supreme Court, But It's Not Mandatory to Link it With Bank Accounts, Mobile Numbers.
Earlier this week, the Supreme Court, while hearing a plea stated that it was essential to link Aadhaar with the PAN to file income tax returns. According to reports, the top Court was hearing the government's plea against a Delhi High Court order allowing the respondent to file IT returns for 2018 – 2019 without linking the 12-digit biometric. Know Online and Offline Ways to Link PAN with Aadhaar.
In its statement, CBDT, the policy-making body of the tax department had said, "CBDT had allowed time till 30th June, 2018 to link PAN with Aadhaar while filing the tax returns. Upon consideration of the matter, the CBDT further extends the time for linking PAN with Aadhaar till 31st March, 2019." Aadhaar Smart Card Mandatory? UIDAI Confirms There Is No Such Concept, Warns People.
The government has made the linking of Aadhaar with PAN mandatory for various state-sponsored schemes and subsidies. The earlier deadlines for linking Aadhaar-PAN in 2017 were July 31, August 31 and December 31 while in 2018, it was March 31 and June 30 after which it was March 2019. In September 2018, the top Court had said that benefits under the Aadhaar project should be in the nature of welfare schemes and it cannot be made compulsory for services such as bank accounts, mobile connections or school admissions.