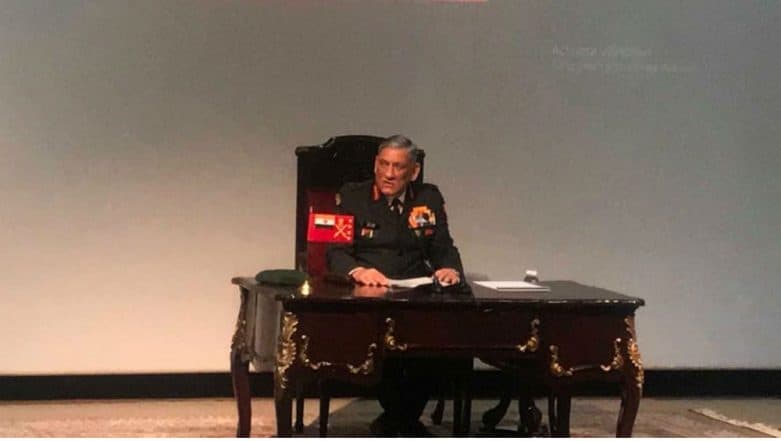 New Delhi, January 15: The nation is celebrating the 71st Army Day today. Yesterday, Chief of Army Staff (COAS) General Bipin Rawat addressed the nation on the eve of the 71st Army Day. General Rawat extended his wishes to all the ranks of the Indian Army and their family members on the occasion of the raising day of the Indian Army. He saluted the bravery of the Indian soldiers. Gen Rawat said that the last year was full of challenges, but the army gave a befitting reply to perpetrators. Indian Army is Conservative, Can't Allow Homosexuals: General Bipin Rawat.
The COAS also appreciated the contribution of Indian soldiers in the United Nations Peacekeeping missions. He said that the Indian soldiers are known for their humanitarian values all over the world. During his address to the nation, Gen Rawat stated that secularism forms the basis of the discipline of the army. He further added that the Indian Army along with the Navy and the Air Force is capable of thwarting any foreign aggression. Army Day 2019: Lieutenant Bhavana Kasturi to be First Woman Officer to Lead Male ASC Contingent at 71st Parade.
The army will be celebrating its 71st Army Day on January 15. The Army Day in India is celebrated every year on January 15 in recognition of Field Marshal Kodandera M. Cariappa's (then a Lieutenant General) taking over as the first Commander-in-Chief of the Indian Army. He took charge from General Sir Francis Butcher, the last British Commander-in-Chief of India, on 15 January 1949. In 1942, KM Cariappa became the first Indian Army Officer who was passed on to command a unit.