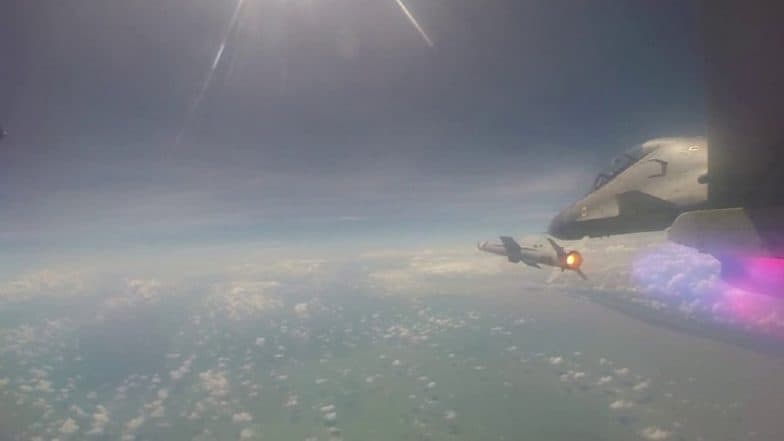 New Delhi, September 19: The Defence Research and Development Organisation (DRDO) on Thursday successfully conducted five trials of the Astra Missile. The test came two days after the Indian Air Force successfully test-fired the missile off the coast of Odisha. The indigenously developed missile will significantly boost India's defence arsenal amid the ongoing tensions with Pakistan. Here's All You Need to Know About The Air-to-Air Missile. Astra Missile's Third Test-Fire Successfully Conducted by DRDO Off Odisha Coast.
Astra is indigenously developed by the DRDO, and has a range of 70 kilometres. The air-to-air missile is equipped with various radars, electro-optical tracking system (EOTS) and sensors to track the missile and confirm its engagement with the target.
Defence Minister Rajnath Singh has congratulated the DRDO and the Air Force teams for the successful trials. Notably, Astra is the first indigenous air-to-air missile, and has demonstrated its effectiveness by accurately engaging with the live aerial target.
Watch: IAF Sukhoi Su-30MKI Successfully Test-Fires DRDO's Astra BVR Air-To-Air Missile
With beyond-visuals-range technology, Astra will be used by the IAF alone with the Sukhoi Su-30MKI.
The missile was developed between 2003 and 2012 by the DRDO in three different configurations. Carriage trials were carried out in 2009 and 2013 on Sukhoi Su-30MKI.
In May 2014, it was fired for the first time in the air. On March 18, 2016, the missile was fired during Iron Fist 2016 exercise from a Sukhoi Su-30MKI. During a series of seven tests in September 2017, Astra was tested twice with an indigenous seeker.