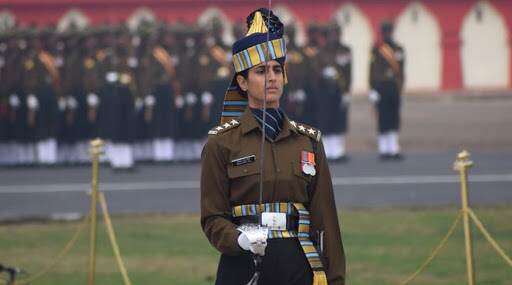 New Delhi, January 15: Captain Tania Shergill, commissioned into the Corps of Signals two years ago and fourth generation soldier, has become the the Parade Adjutant for the first time in the history of the Army Day parade. She led the all-men contingents at the Cariappa Parade Ground in Delhi Cantt during the parade.
A graduate in electronics and telecommunications from a college in Nagpur, Captain Shergill was commissioned by the army in March 2017 from the Officer Training Academy (OTA) in Chennai, and with this became the fourth generation soldier. The woman officer, who hails from Hoshiarpur in Punjab. Apart from the Army Day parade, she has also been chosen to adjutant for the 71st Republic Day parade. Army Day 2020: Article 370 Repeal Was Historic Step, Disrupted Proxy War by Western Neighbour, Says General MM Naravane.
Considering fact that she is the fourth generation army officer, her father was in 101 Medium Regiment (Artillery) while her grandfather was in the 14th Armed Regiment (Scinde Horse).
Interestingly, her great grandfather was in the Sikh Regiment.
Earlier on 2018, Captain Shikha Surabhi became the first and only woman ever to join the Indian Army's Corps of Signals Daredevils Motorcycle Display team, while Captain Bhavna Kasturi was the first woman officer to lead an all-men contingent. This year, Captain Tania Shergill will lead Parade Adjutant during the Republic Day celebrations 2020.