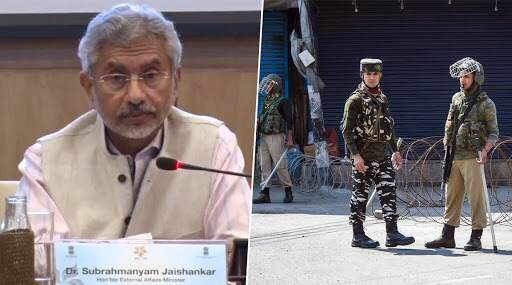 New Delhi, September 17: Union External Affair Minister Dr S Jaishankar on Tuesday informed that the world would have to wait for improved relations between India and Pakistan, as the issue of cross border terrorism remains a challenge for the Narendra Modi government. He also informed that Article 370 is not an issue with Pakistan, but terrorists coming from Pakistan is. Also, he made it clear again that Pakistan Occupied Kashmir (PoK) is a part of India and the government expects one day it will have physical jurisdiction over it. EAM S Jaishankar Says 'Indian Government Will Not Shy Away from Taking Bold Decisions'
Addressing a press conference on first 100 days of his ministry, Jaishankar said, "With regard to Pakistan, the issue is not Article 370 but Pakistan's terrorists. We must make the world realise. I always ask other people show me anywhere else in the world where any country conducts terrorism openly against its neighbour as part of what it considers its foreign policy."
Adding on, he said, "We hope to build a better, stronger neighbourhood but recognising that we have a unique challenge from one neighbour, until the issue of cross border terrorism is successfully addressed and that neighbour becomes a normal neighbour that would remain a challenge." Integration of PoK Into India Next on Government's Agenda, Says Union Minister Jitendra Singh.
Stating the works done in last 100 days, the EAM said, "We, like any other country, would want to put out our narrative, our specific interest and in the last 100 days some of that has gone to the message of change the vote of confidence that government got from electorate, fact that we're back, what that means. Also, issues which have had some foreign policy resonance like changes to Article 370, longer-standing issues especially cross-border terrorism." S Jaishankar Lauds Narendra Modi Govt for Bold Steps to Improve India's Economic Situation, Says Policies Will Reform Corporate Sector.
Adding on, the EAM would meet Pakistan's counterpart on the sidelines of United Nations General Assembly. Apart from this, Jaishankar elaborated on the Muslim cleric Zakir Naik's extradition. He said, "There is an extradition request for Zakir Naik. We want him back, and that is what we are working towards." Narendra Modi Didn't Ask Me to Extradite Zakir Naik, Says Malaysian PM Mahathir Mohamad.
Among other things, Jaishankar stated include India's active involvement in Africa in the last 100 days, where the work is underway to open 18 embassies in Africa. The EAM even spoke on Kulbhushan Jadhav's case and stated that the government is committed to bringing him back to country safety.