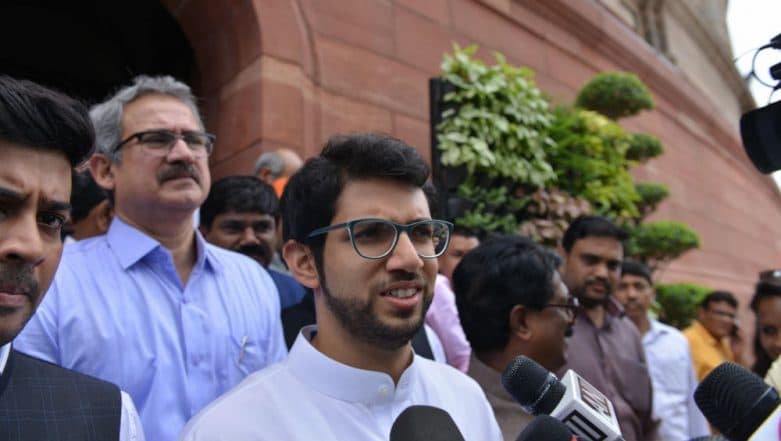 Mumbai, December 27: Yuva Sena chief Aaditya Thackeray on Thursday wrote a letter to Maharashtra chief minister Devendra Fadnavis urging him to allow markets in non-residential areas to remain open 24 hours in Mumbai, Pune, Thane and Navi Mumbai for New Year's celebrations as they need "more space and time to unwind after hours of work".
In his letter, Aaditya Thackeray requested the chief minister to allow Mumbai, Pune, Thane, Navi Mumbai and other cities that wish to celebrate New Year to be "open all night for all legal activities of entertainment and celebration, especially in non-residential areas." He further asked the Fadnavis government to clear the proposal for non-residential areas to be open 24X7. Yuva Sena Chief Aaditya Thackeray Urges Modi Government to Bring Pre-Primary Admissions Under RTE.
"The proposal for Mumbai is awaiting your approval from the Home Department for a few months now and is foolproof," Aaditya, son of Shiv Sena chief Uddhav Thackeray, said, adding that the move will generate more employment and revenue for the state. "I am sure, you will consider both my requests positively," he said.
My letter to @CMOMaharashtra about 31st December and Mumbai 24x7 proposal pending for a few months. pic.twitter.com/uWqGVKWW5q

— Aaditya Thackeray (@AUThackeray) December 26, 2018
Aaditya Thackeray has been advocating that malls, theatres, food establishments, chemists, and convenience stores in non-residential areas should be allowed to operate through the night. However, the Fadnavis government is wary of law and order issues if the proposal gets cleared.