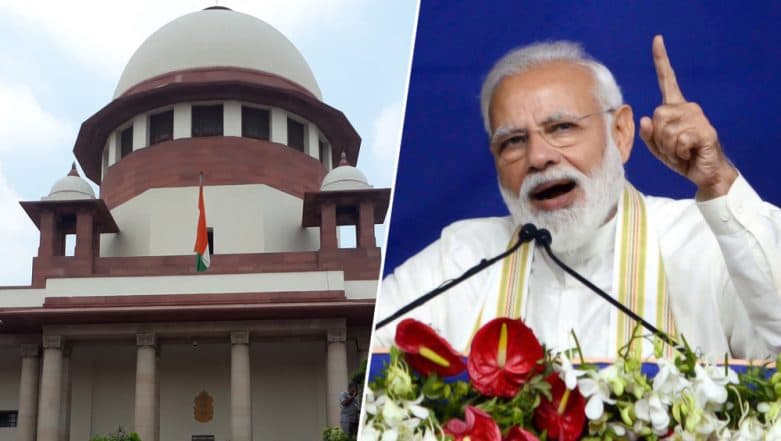 New Delhi, March 12: The central government on Tuesday defended its decision to give 10% reservation in jobs and education for the economically weaker section (EWS) of the general category. In an affidavit presented in the Supreme Court, the Narendra Modi government said that the Constitution Amendment that gives 10% reservation has not violated the basic structure of the Constitution or the top court's 1992 ruling which had put 50 per cent cap on the reservation. Supreme Court to Modi Government: Why No Permanent Mechanism Yet To Check Unprecedented Rise In Election Candidates' Assets?
The apex court on Monday said it is not in favour of passing order at this stage to refer the issue of 10 per cent quota for economically weaker sections across all classes to a Constitution bench. A bench, headed by Chief Justice Ranjan Gogoi, said that it would hear the plea on March 28 and would consider whether the matter is required to be referred to a Constitution bench. Quota Bill Sanctioning 10% Reservation For Economically Weaker Sections Of Upper Castes Passed in Rajya Sabha.
The apex court had earlier refused to stay the Centre's decision to grant 10 per cent quota in jobs and admissions to poor candidates in the general category. However, the court had agreed to examine the validity of the law and issued a notice to the Centre on the plea filed by businessman and Congress supporter Tehseen Poonawalla. Mayawati Slams Modi Govt Over 10 Per Cent Upper Caste Reservation, Says 'It Is an Election Stunt and Political Gimmick'.
During the winter session of Parliament, the Rajya Sabha passed the Constitution (124th Amendment) Bill, 2019 sanctioning 10 per cent reservation in government jobs and educational institutions to economically weaker sections among the upper castes. A total of 165 Members of Parliament voted in favour of the bill, while only seven lawmakers voted against it.