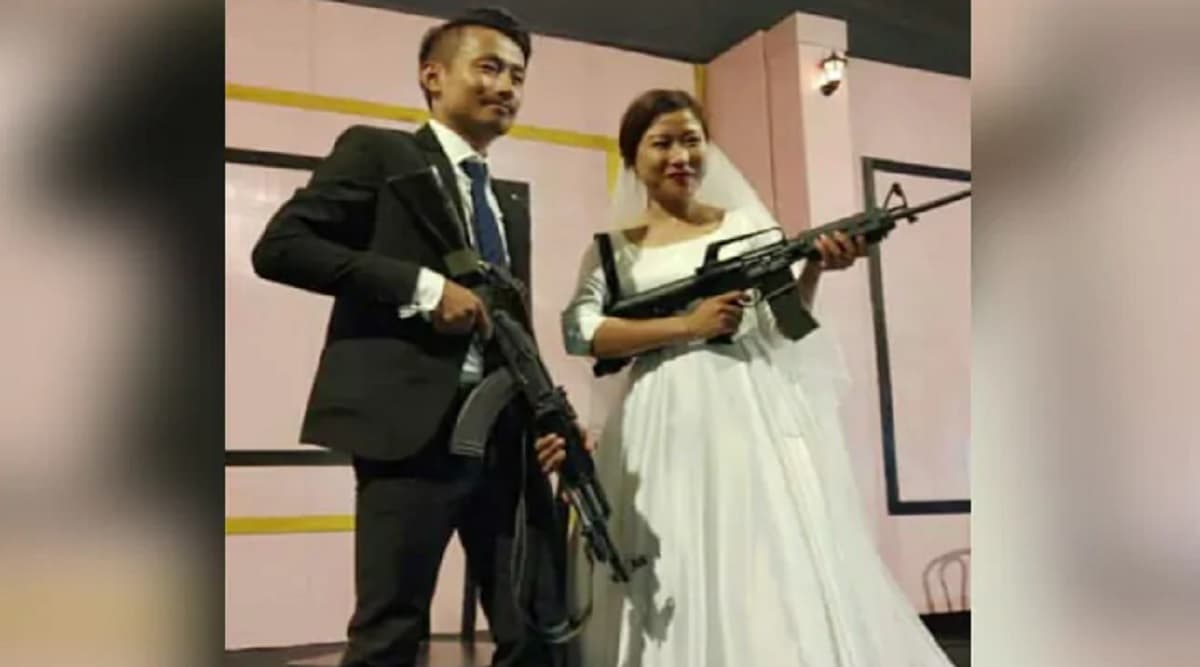 Dimapur, November 11: At a time when the Centre is trying to seal a peace deal with Naga insurgents, a photo of a rebel leader's son and his bride posing with automatic rifles has surfaced on social media. Bohoto Kiba, son of Kilo Kilonser of the militant National Socialist Council of Nagaland-Unification (NSCN-U), got married on November 9. During the wedding feast, Bohoto Kiba, along with the bride, displayed shiny rifles. Naga Peace Talks: Breakthrough in Deadlock as NSCN(IM) Softens Stand on Separate Flag, Constitution.
In the picture, which is now going viral on social media, the newly-wed couple were seen brandishing automatic rifles - M16 and AK 56 - during the wedding reception. Guests were stunned at the public display of firearms. "I haven't seen the picture (bride and groom brandishing automatic rifles) and I am not aware of it," Nagaland police chief, T John Longkumer told news agency IANS. NSCN(IM) Hideout Out Camp in Manipur Dismantled by Indian Army.
Kiba, a powerful Naga rebel leader, was in news in 2012 when he threatened journalists in Nagaland. The top militant leader had threatened to shoot members of the press. It remained unclear with who he tied the knot. The NSCN-U was formed by breakaway leaders of the Socialist Council of Nagalim - Isak-Muivah and the Myanmar-based Socialist Council of Nagaland-Khaplang.
The Centre is yet to sign the Naga peace accord with various Naga insurgent factions, including the National Socialist Council of Nagalim Isak-Muivah (NSCN-IM). Prime Minister Narendra Modi had set October 31 as the deadline to wrap up the talks and ink the peace pact. The NSCN-IM and New Delhi entered into a ceasefire in August 1997.
The NSCN(IM), which signed the ceasefire agreement with the government, had several rounds of talks in as well as outside India over the last 22 years. The BJP government, led by Narendra Modi, had signed a "framework agreement" with the NSCN-IM leadership in 2015.