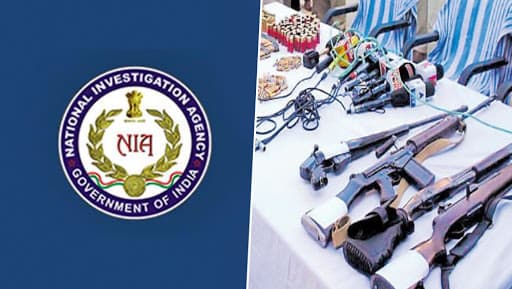 Chennai, May 20: The National Investigation Agency (NIA) today, on Monday, carried out searches at 10 locations related to ten different people in the districts at Muthupet, Keelakarai, Devipattinam, Lalpet and Salem in connection to "conspiring to procure arms for terrorists gang and raising funds to wage armed struggle," reported news agency ANI. Sri Lanka Serial Blasts: 4 Indians Among 207 Killed, 469 Injured in Blasts on Easter Sunday.
The NIA also claimed that the search operations carried out at the locations also revealed a plan to "facilitate escape of terrorists from jail to act against the country." NIA Busts ISIS-Inspired Terror Module Ahead of Republic Day, 10 Suspects Arrested With Bomb-Making Materials.
During the searches, a number of digital devices including Laptops, hard discs, 16 mobile phones, multiple SIM cards, pen drives, memory cards sides two knives and a large number of incriminating documents have also been seized.
The arrests comes after ten National Investigation Agency (NIA) teams on May 2, carried out raids at locations in Tamil Nadu's Kumbakonam, Adirampattinam and Keezhakarai, after the agency had detained four suspects in Chennai on suspicions of links with terrorist group Islamic State (IS) following the bombings in churches and hotels in Sri Lanka on Easter Sunday that killed more than 253 people on April 21, 2019.
The National Investigation Agency (NIA) had also raided three places in Kerala in connection with an Islamic State module, with police in the state saying that one suspect had been detained. The NIA said it was investigating an Islamic State module.