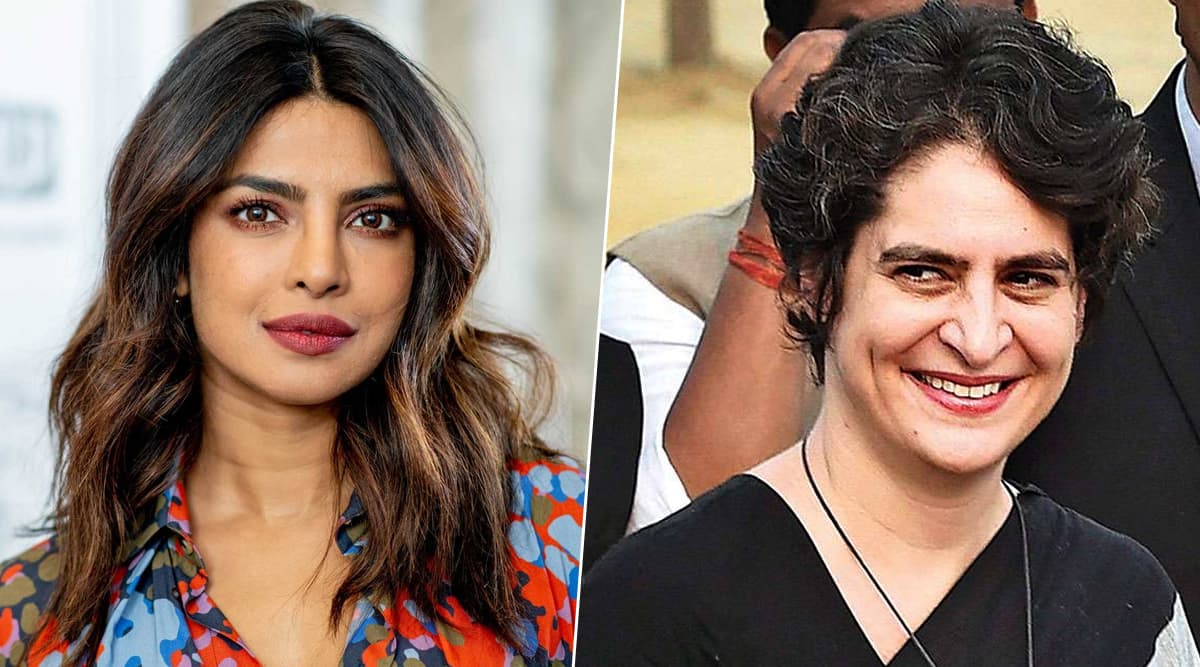 Delhi, December 1: During an Indian National Congress rally in Delhi on Sunday, December 1, former MLA Surender Kumar mistakenly referred Priyanka Gandhi Vadra as Bollywood actress Priyanka Chopra. In the video of the incident, which has gone viral on social media, the three-time MLA is seen correcting himself and apologising for the mistake. 'Narendra Modi, Amit Shah Are Intruders Themselves': Congress' Adhir Ranjan Chowdhury Stokes Row Over NRC; Watch Video.
In the clip, Kumar can be heard saying, "Soniya Gandhi zindabad (livelong), Congress Party zindabad, Rahul Gandhi zindabad, Priyanka chopra zindabad." After identifying his mistake, the Congress leader apologised and said, "Priyanka Gandhi Zindabad." 'Congress Would Have Performed Better Under Priyanka Gandhi's Leadership' Says Rahul Gandhi's Ex-Aide Pankaj Shankar.
Watch Video:
आज दिल्ली में कांग्रेस की रैली थी..

कांग्रेस पार्टी के पूर्व विेधायक सुरेन्द्र कुमार जी मंच से नारे लगवा रहे थे.

गलती से उन्होंने महासचिव प्रियंका गाँधी की जगह प्रियंका चोपड़ा ज़िंदाबाद का नारा लगवा दिया।

बाद में तुरंत माफ़ी मांगते हुए उन्होंने सही नाम प्रियंका गांधी लिया। pic.twitter.com/kj0rpdyNH6

— Ravi Pratap Dubey (@ravipratapdubey) December 1, 2019
Reacting to the post, a Twitterati said, "Next is what Nick Jonas zindabad". Another said, "Priyanka Chopra shall be very thankful to you for this act of kindness." Priyanka Gandhi Not Keen on Becoming Congress President, Says 'Don't Drag Me Into This'.
Surender Kumar is a three-time Member of Legislative Assembly (MLA) from Delhi's Bawana. He was the elected three times between 1998 and 2008. In Bawana assembly bypolls in 2017, the Congress leader lost to Aam Aadmi Party's Ram Chander.