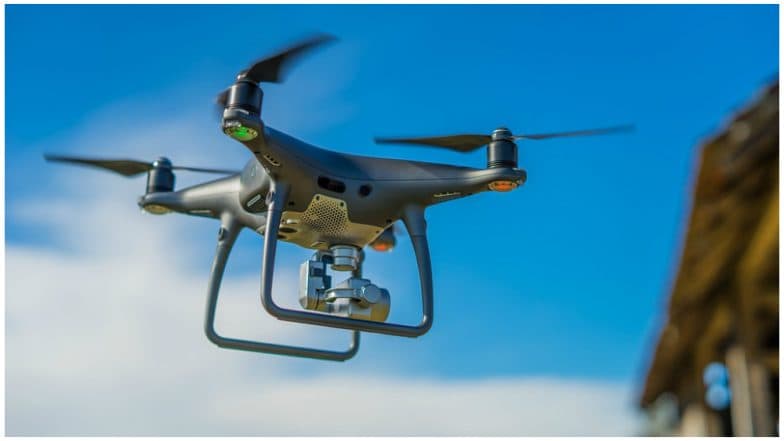 Chandigarh, October 9: A suspected Pakistani drone was spotted hovering near Ferozepur in Punjab for the last two days, the Punjab police informed on Wednesday. According to a tweet by ANI, Ferozepur DSP Sukhvinder Singh said that the Police has been spotting a drone like object flying near India's border with Pakistan over the last two days, following which the Border Security Force (BSF) has been out on high alert. Singh said that teams have been formed to investigate and have approached Border Security Force (BSF) also.
On Tuesday, another similar drone was spotted flying in two villages in the Indian territory along the India-Pakistan border in Hussainiwala area in Punjab The locals of the villages claimed that this was the second incident in a week. They also captured pictures of a drone on their mobiles. According to reports, the drone was first seen in Hazarasingh Wala village at 7.20 pm and later in Tendiwala village at 10.10 pm. Even on Monday night, a Pakistani drone was sighted thrice in the same area following which a search operation was launched in the region.
Here's the tweet:
Ferozepur(Punjab): DSP Sukhvinder Singh says 'For the last two days we have been spotting a drone like object hovering near our border with Pakistan. We have formed teams to investigate and have approached BSF also.' pic.twitter.com/ZSkPXDwwPP

— ANI (@ANI) October 9, 2019
Several Pakistani drones have been spotted by the BSF along the India-Pakistan border. In September, two drones were recovered from border areas of Tarn Taran and Amritsar in Punjab. The BSF has also started sensitising the border residents to immediately inform the police or BSF authorities if they spot anything unusual near the zero line.
the Punjab Police had launched a probe to account for the weapons consignment apparently smuggled into India from Pakistan across the border by the two drones. These drones were recovered near the India-Pakistan border by the officials. According to an official statement from the Punjab police, several teams were formed to ascertain the links of the terror groups involved in sending these drones from Pakistan.