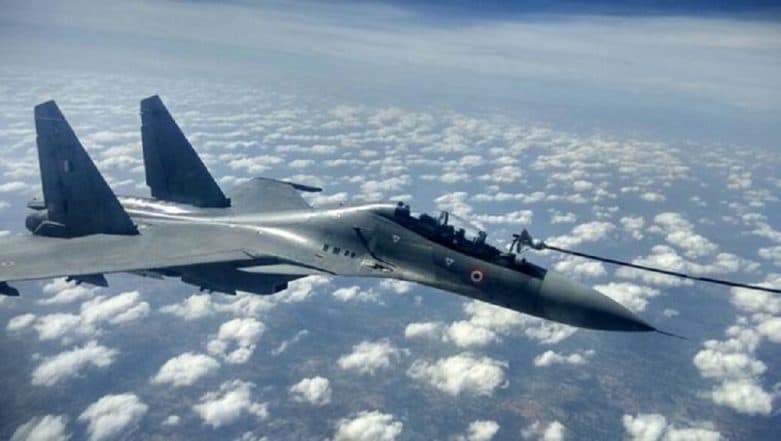 Moscow, August 24: In the latest development, Russia has offered India to upgrade the Indian Air Force's (IAF) Su-30MKI fighter jets along with the improvement programme of the Russian Air Force's Su-30SM aircraft. This move would enhance features of the Su-30MKl. A.A. Mikheev, General Director of Russian Arms exporter, Rosoboronexport while interacting with media on Friday in Moscow said, "Such a move would lead to cost-effectiveness and would bring in some technologies and systems which have been planned for the Su-30SM aircraft."
A total of 240 SU-30MKI are serving in the Indian Air Force (IAF) since October 2017. These jets are approaching its mid-life service period.  Mikheev said that carrying out the upgrade programme together with the overhaul would save time and money. Among the additions and improvements proposed to the Indian Ministry of Defence as part of the Su-30MKI upgrade are a new radar, avionics and communication systems besides some enhancements to its engine.
Russia has a contract with India to supply 272 Su-30MKI fighter jets to India. Around three-fourths of these jets have been assembled by Hindustan Aeronautics Limited (HAL). The Su-30MKI is currently the front-line fighter jet of the IAF, while 36 French fighter jets, Rafale will be inducted into the IAF in the 2019-20 timeframe.
The IAF issued the Request for Information (RFI) for the multi-billion dollar deal to procure 110 fighter jets. India has received a response to the RFI from six global aircraft manufactures. The entire deal will be of worth Rs $15 billion. Six companies which showed interest to provide fighter aircraft are Boeing's F/A-18E/F Super Hornet, Lockheed Martin's F-16 Fighting Falcon, Dassault Aviation's Rafale, Eurofighter Typhoon, Saab's Gripen and Russian United Aircraft Corporation's MiG-35.