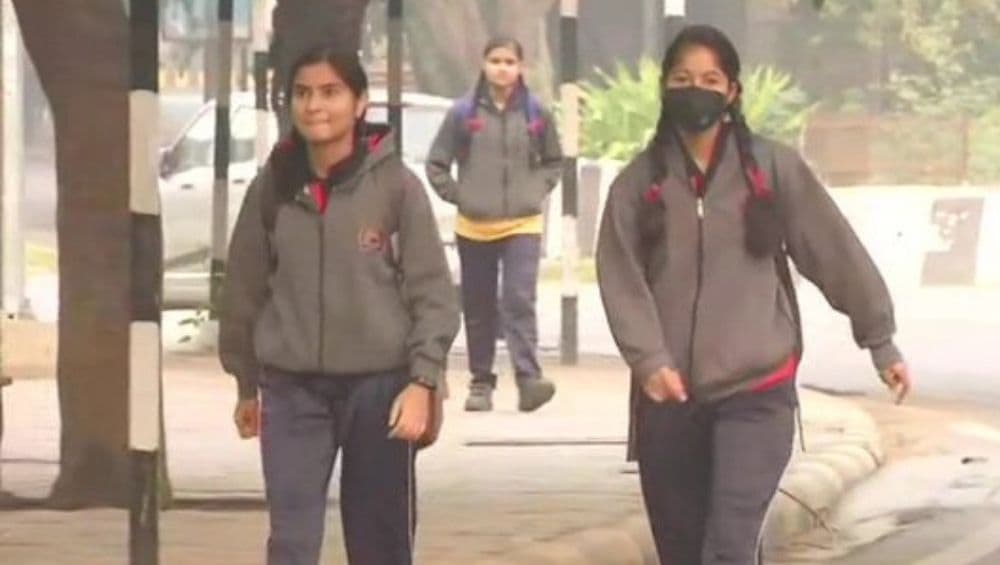 Delhi, November 6: The schools in the national capital have reopened today after the air quality showed marginal signs of improvement. The state government had announced last Friday, when the air quality dipped to 'severe plus' level, that schools would remain shut until November 5.
According to the picture shared by ANI, students can be seen on their way to their schools wearing masks. Though there hasn't been a drastic improvement in the air quality, it has got better in comparison to Sunday's AQI of 494, which was the worst air day in Delhi since 2016. Odd-Even Rule, Day 3 Today: Delhi Air Quality Improves But Remains in 'Unhealthy' Category, Smog Continues to Cover the Sky.
According to Air Quality Index data, the pollutants PM 2.5 at 279 and PM 10 at 250, are in 'poor' category in Lodhi Road area. A layer of smog continues to cover the sky in the national capital. Places around India Gate have reported AQI in the 'Unhealthy' category this morning. Areas in Ghaziabad and Gurugram have also recorded AQI in the 'Unhealthy' category.
Check ANI tweet:
Delhi: Students wear anti-pollution masks to schools,

as the air quality continues to be poor. pic.twitter.com/vxMT07E3hU

— ANI (@ANI) November 6, 2019
The principals of the schools have highlighted that they would refrain from having any outdoor activities and will tell their students to wear masks. On November 1, chief minister Arvind Kejriwal had distributed N95 anti-pollution masks to schoolchildren. The students were given a kit comprising two masks and a pamphlet explaining the way to use them.