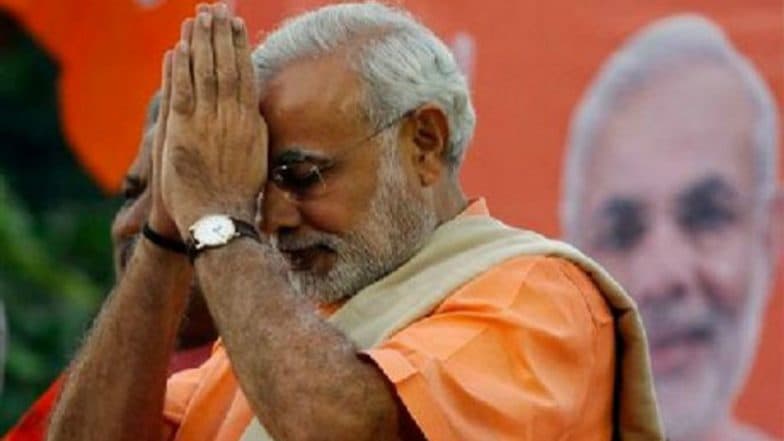 New Delhi, October 12: Prime Minister Narendra Modi on Friday paid tributes to Rajmata Vijaya Raje Scindia on her 99th birth anniversary, saying she was blessed with a futuristic vision and was a source of inspiration for several people. "We remember Rajmata Vijaya Raje Scindia on her Jayanti. She devoted her entire life to public service. Formidable, compassionate, always accessible to people and blessed with a futuristic vision for the nation, she is a source of inspiration for several people," Modi said in a series of tweets. Hailing Scindia for her efforts to build the parties, Modi said: "For Karyakartas (workers) of the Jana Sangh and BJP, no words can do justice to Rajmata Vijaya Raje Scindia's monumental efforts to build these parties. PM Narendra Modi at Uttarakhand Investors Summit: 'India Is Witnessing Rapid Economic and Social Changes'.
"She resisted the Emergency tooth and nail, overcoming all forms of intimidation, bullying and dirty tricks of those in power then," he said, attaching the photographs and a video of his recent interaction with the party workers through video conferencing on Namo App.
Scindia was born on October 12, 1919, as Lekha Divyeshwari Devi and she was known popularly as the Rajmata of Gwalior after her marriage. She was married to Maharaja Jivajirao Scindia of Gwalior in 1941. They had five children. PM Narendra Modi Gives Birthday Blessings to Belaku, Girl Whose Father Wrote 'Indeed, PM Modi Chor Hai'.
She was a prominent Indian political personality. In the days of the British Raj, as consort of the last ruling Maharaja of Gwalior, Jivajirao Scindia, she ranked among the highest royal figures of the land. She was earlier in the Congress, but after finishing the privy purse of royal families by then Prime Minister Indira Gandhi, she joined the Jan Sangh.