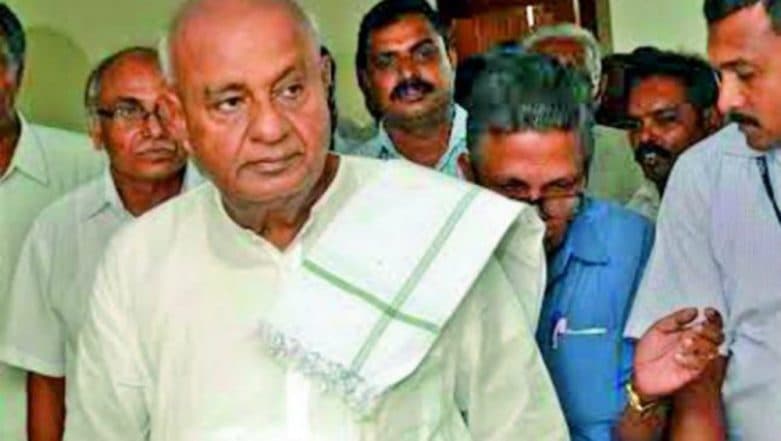 Bengaluru, June 21: Janata Dal (Secular) chief and former Prime Minister HD Deve Gowda on Friday gave fire to speculations of a rift in the Congress-JD(S) coalition government in Karnataka. Gowda expressed doubts on the survival of the alliance. The former PM told reporters that the future of alliance depends on the Congress. Lok Sabha Elections 2019: HD Deve Gowda Joins Hands With Congress in Karnataka, Says Seat Sharing Decision Soon.
"I don't know how long this government will survive. It depends on Congress decision," the Times of India quoting Gowda as saying. He also praised Chief Minister HD Kumaraswamy for putting up efforts to keeping this alliance intact. During his media interaction, the former PM also revealed that he had proposed Mallikarjun Kharge's name for the post of CM but the grand old party wanted Kumaraswamy to lead the coalition government. Lok Sabha Elections 2019: Ex-Prime Minister HD Deve Gowda Backs Rahul Gandhi as PM Candidate.
However, Kumaraswamy blamed the media for misinterpreting his father's statement. The Karnataka CM reassured that the Congress-JD(S) alliance in the state would complete five years.  Gowda's statement comes at a time when there are speculations of a rift in the alliance leading to a political crisis in the state. The party had also accused the Bharatiya Janata Party of poaching its MLAs.
Months after forming the government in the state last year, CM Kumaraswamy had broken into tears at a party event. During that event, he had said that only he knew the pain of coalition government