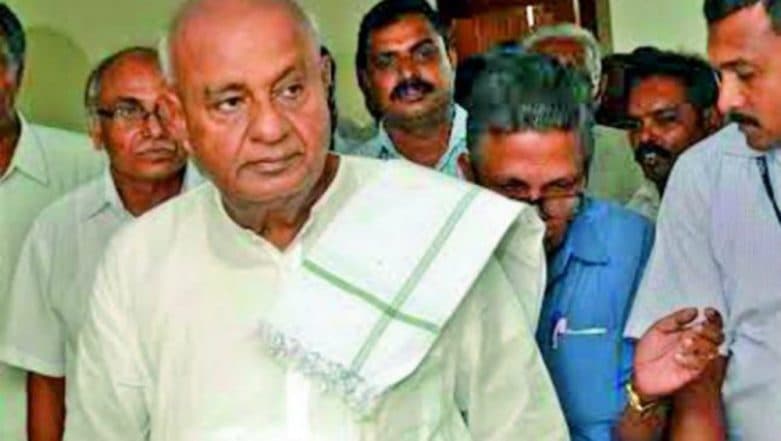 Bengaluru, January 14: With just months left for the Lok Sabha Elections, political parties in the country are looking for options to ally with each other so that they can secure their existence for the next five years. The decision over who would be the face of Prime Ministerial candidate from the United opposition still pending, former PM HD Deve Gowda is in favour of Congress president Rahul Gandhi for the top post with some reservations, of course.
Expressing his opinion on the coalition preference for the PM candidate to face BJP' Narendra Modi in the upcoming Lok Sabha election, while speaking with The Hindustan Times, Janata Dal (Secular) patriarch named Rahul Gandhi. Lok Sabha Elections 2019: Congress Outlines UP Poll Strategy – Ready For Battle in All 80 Seats With 13 Rallies by Rahul Gandhi.
Extending his support for the Congress president, Gowda said, "Rahul Gandhi is a young, upcoming leader. He was made president of the Congress a year back. From then, I have seen the quantum of experience he has gained, but there is room for improvement. As a coalition partner, here I have no hesitation in extending my support. We want Rahul to be PM."
Though Gowda sees Gandhi as the next Prime Minister of the country, if united opposition secures a majority, he also opines that the Congress president should choose his words carefully and control his emotions, before sharing in the public domain.
With a considerable amount of attacks already in place on the coalition between JDS and Congress in Karnataka, the JD(S) leader quashed any fringe between the alliance and stated, "The formula that has been adopted by the Congress after the formation of the government is one-third for us on all issues. A third of 28 Lok Sabha seats is 10."
Asked his opinion on the performance of Narendra Modi government in last four-and-half years, Gowda stated that BJP-led Central government launched several schemes – digital India, swachh Bharat, etc. – but 'there is a vast difference in the quantum of publicity and the quantum of real ground-level benefit'. He said that there was more hype than delivery.
Gowda also pointed out that reservation bill for upper castes was a sign of the Bharatiya Janata Party's (BJP) desperation and the party is trying to create euphoria. Also, he opined that rather than answering questions on Rafale deal outside the Parliament, Narendra Modi should have done it inside the Lok Sabha. According to him, this gives a wrong impression of the Prime Minister, who 'skips' the parliamentary proceedings.