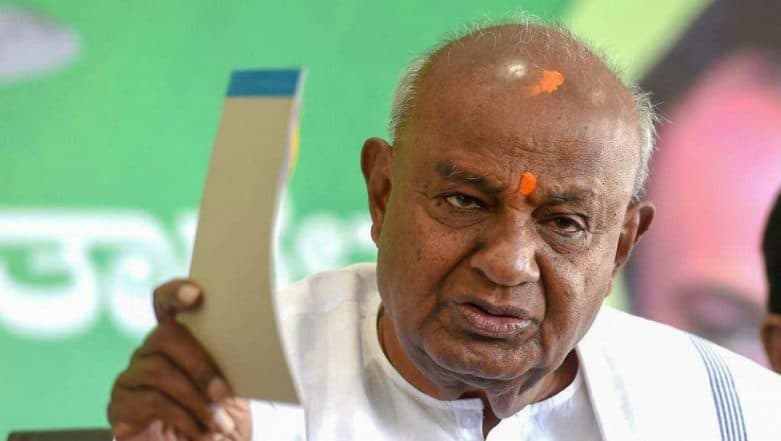 Bengaluru, March 3: In the run up to the Lok Sabha Elections 2019, Former Prime Minister and JD(S) chief HD Deve Gowda on Sunday agreed to join hands with the Congress party in Karnataka for the upcoming polls. According to a tweet by ANI, Gowda said he has decided to contest the elections with Congress to revive secular forces and stated that the seat share will be decided in the coming week. "I have agreed to join hands with Congress to again revive secular forces. We are going to share the seats, that is going to be finalised in the next one week or ten days", the JD(S) Chief said. Ex-Prime Minister HD Deve Gowda Backs Rahul Gandhi as PM Candidate. 
In January this year, Gowda sparked a controversy by demanding more seats for the JD(S) for the general election but Congress, on the other hand, hoped to get a lion's share of seats. On January 1, Deve Gowda said that his party JD(S) was seeking to contest 12 out of the state's 28 Lok Sabha seats in the state. Gowda demanded that the Congress should give them at least nine seats, which would make it a 2:1 seat-sharing arrangement.  Lok Sabha Elections 2019: Congress Outlines UP Poll Strategy – Ready For Battle in All 80 Seats With 13 Rallies by Rahul Gandhi.
Gowda had made it clear that the JD(S) wanted 12 seats out of the 28 Lok Sabha seats. According to reports, the constituencies the JD(S) wants to contest from in the upcoming polls include Mandya, Hassan, Mysuru-Kodagu, Bengaluru Rural, Kolar,  Chikkaballapura, Shivamogga, Tumakuru, Udupi-Chikkamagaluru, Chiradurga, Raichur and Bidar.