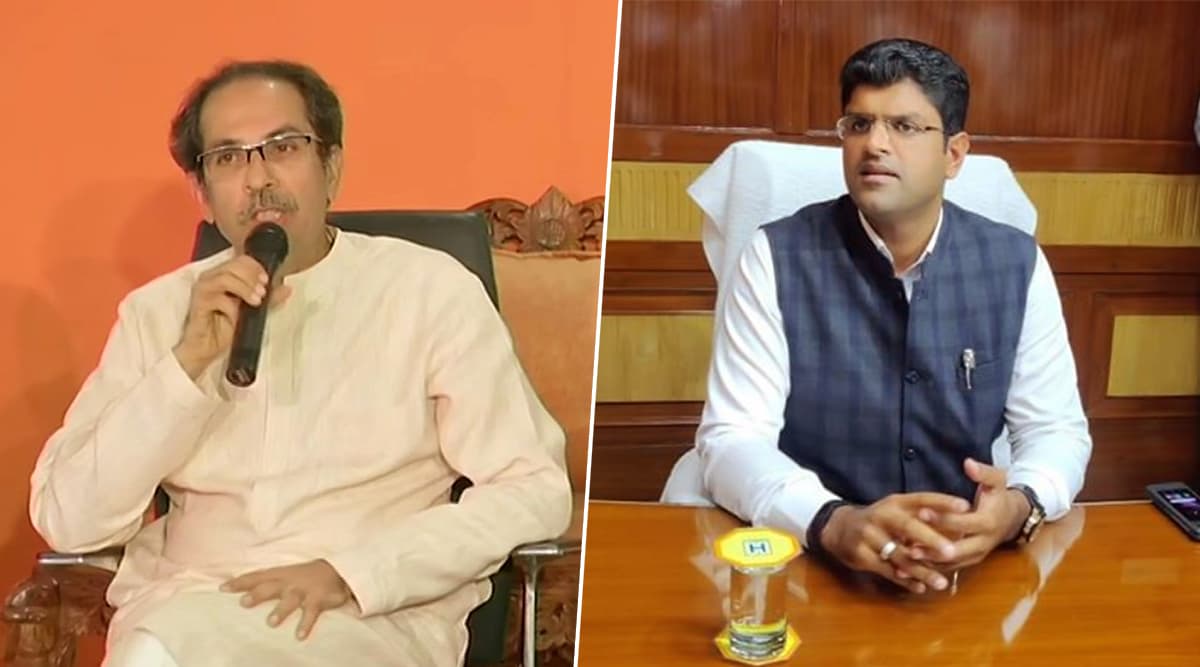 Mumbai, November 8: Shiv Sena chief Uddhav Thackeray on Friday hit out at the Bharatiya Janata Party (BJP) and incumbent Chief Minister of Maharashtra Devendra Fadnavis for accusing him of making "personal attacks" against Prime Minister Narendra Modi. Responding to the statement of Fadnavis that Shiv Sena's personal attack on PM Modi is unacceptable, Thackeray played the video of Haryana Deputy CM Dushyant Chautala in which he lashed out at PM Modi over the 2002 Gujarat riots. Shiv Sena's Remarks Against PM Modi 'Unacceptable', Says Devendra Fadnavis After Resigning as Maharashtra CM.
Thackeray alleged that the BJP is lying. Referring to Chautala's statement on PM Modi during the Lok Sabha elections 2019, he said that the one who made personal comment has now been embraced by the BJP. He added that, if the BJP can make an alliance with Chautala, how could it say that our comments are unacceptable. He said, "You can form a government with Dushyant Chautala, who has made such attacks against the PM, but you are opposed to Sena which has criticised the Prime Minister only on policy issues."
During his press briefing he also took a jibe at the BJP government at the Centre. He said the saffron party lied to the people of the nation. Thackeray further added. "In 2014, the BJP government had promised to bring Achhe Din, but they brought demonetisation."
Thackeray reiterated the Shiv Sena stand of supporting the BJP only if the saffron party agrees to its demand of giving CM post to it for 2.5 years. Thackeray stated that his party did not fight the Maharashtra Assembly election for the Deputy CM post, but had made it clear to the BJP before pre-poll alliance that this time a CM will be from Shiv Sena.
Earlier in the day, Fadnavis submitted his resignation to Maharashtra Governor Bhagat Singh Koshyari. The governor asked Fadnavis to continue as a caretaker CM till the time a new government is formed. After submitting the resignation, Fadnavis lashed out at Shiv Sena. He said that Uddhav Thackeray-led party's comments on PM Modi are unacceptable. He also held the Shiv Sena responsible for the political stalemate in the state.
In the 2019 assemble elections, the BJP emerged as the single largest party with 105 seats. Its alliance Shiv Sena bagged 56 seats. Opposition parties the Congress and the Nationalist Congress Party won 44 and 54 seats respectively. After the result, the Shiv Sena is adamant on getting CM post for 2.5 on a rotational basis along with key portfolios. However, the BJP wants the CM from its party.