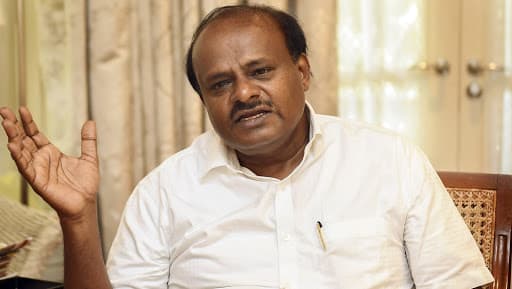 Bengaluru, August 3: A week after Congress-Janata Dal Secular (JDS) government lost trust vote in the Karnataka Assembly, former Chief Minister HD Kumaraswamy on Saturday hinted that he may quit politics. Speaking to news agency ANI, The former Karnataka CM said, "I am thinking of going away from politics. I came to politics accidentally. I became CM accidentally. God gave me the opportunity to become CM twice. I wasn't there to satisfy anyone." Congress-JDS Rebel MLAs to Return to Bengaluru After BS Yeddyurappa Takes Oath as Karnataka CM: Reports.
Kumaraswamy expressed satisfaction over his performance as CM of the state during his tenure of 14 months. He added, "In 14 months I did good work towards state's development. I'm satisfied." The former Karnataka CM raised concerns over the present political politics in the country.
Kumaraswamy also expressed disappointed for dragging his family into politics. "Don't bring in my family. I'm done. Let me live in peace. I don't have to continue in politics. I did good when I was in power. I want space in people's heart," said Kumaraswamy. Last month, the Congress-JDS coalition government led by Kumaraswamy lost trust vote in the Vidhana Soudha. Three days after the coalition government collapsed in the state, Karnataka, Bharatiya Janata Party's (BJP) state unit chief BS Yediyurappa took oath as the next CM.
A day before Yediyurappa's trust vote, Karnataka Assembly speaker disqualified 14 more rebel MLAs, taking the total disqualification to 17. Currently, the strength of the assembly has been reduced to 208 members. The disqualified MLAs cannot contest elections till the end of the 15th Legislative Assembly.