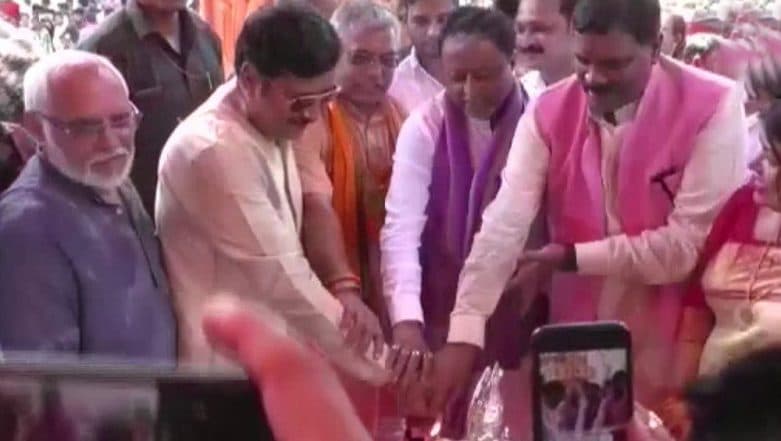 Kolkata, September 3: The constant political battles between the Bharatiya Janata Party (BJP) and the All India Trinamool Congress (TMC) came to a brief halt on Monday. West Bengal BJP chief Dilip Ghosh and senior leaders Arvind Menon and Mukul Roy visited Ganesh Puja hosted by TMC MLA Sabyasachi Dutta in Kolkata. The BJP leaders were chief guests at Sabyasachi Dutta's event and also conducted puja at the pandal in the Salt Lake area on Monday. Aligarh: Husband of BJP Minority Wing Leader Beaten Over Wife's Participation in Party's Membership Drive.
Sabyasachi Dutta had resigned from the post of Bidhannagar Mayor in August and is considered to be close to Roy. Mukul Roy himself was a TMC MP and had served as the Railway Minister in the UPA-II government. He joined BJP in 2017 after resigning from the Rajya Sabha and breaking ties with his old party. The images of the BJP leaders performing puja with the TMC MLA provided a welcome break from the acrimonious relationship shared by the cadre of both the parties. West Bengal: BJP Workers Call for 12-Hour Bandh in Barrackpore to Protest Against Attack on MP Arjun Singh.
See the Pictures in the Tweet Below
West Bengal: Bharatiya Janata Party (BJP) leaders Dilip Ghosh and Mukul Roy attended the Ganesh Puja hosted by Trinamool Congress (TMC) MLA Sabyasachi Dutta at Salt Lake in Kolkata, yesterday. pic.twitter.com/s4gehyqPmm

— ANI (@ANI) September 3, 2019
However, the arrival of Roy along with other top party leaders at the event hosted by Dutta is being seen as a sign that the incumbent MLA from Rajarhat-New Town will soon jump the ship to join BJP. Prime Minister Narendra Modi, during an election rally in West Bengal, had claimed that several TMC leader were in touch with him to join the BJP. The claim had created a political furore in the state of West Bengal and led to a verbal war between the BJP and the TMC.