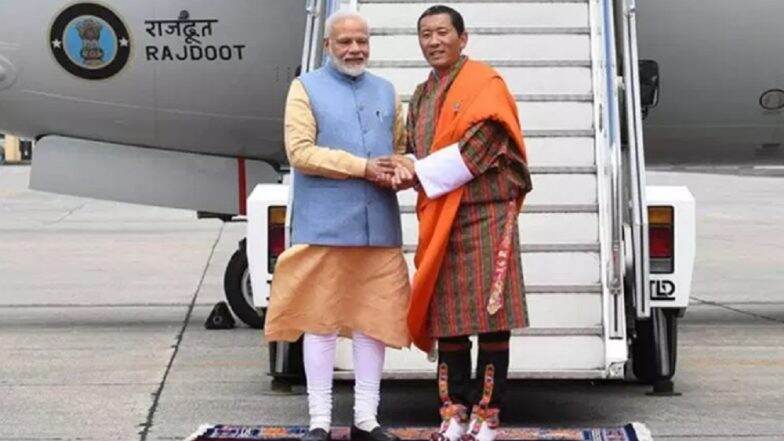 Thimpu, August 18: Bhutan Prime Minister Lotay Tshering on Sunday expressed gratitude to India Prime Minister Narendra Modi for visiting his country and said that the Indian Prime Minister "came with a smile and left with a smile." He also said that the two-day visit by Indian Prime Minister Narendra Modi was a successful one and helped create "heart-to-heart" relations between India and Bhutan. PM Modi Arrives in Bhutan, Says 'Deeply Touched' by Lotay Tshering's Gesture of Receiving Him at Airport.
The Bhutan Prime Minister thanked the rain gods for holding up rains during the two-day visit to Bhutan by Prime Minister Narendra Modi. Modi to Inaugurate Mangdechhu Project on State Visit to Bhutan.
Expressing his gratitude for building a ground station in Bhutan under India's South Asia Satellite programme, Bhutan PM Tshering said that he is "very grateful" to the Government of India and Prime Minister Narendra Modi. The ISRO-built Ground Station for South Asian Satellite was also remote launched during an event on Saturday.
He also added that the Indian Space Reserach Organisation (ISRO) is willing to help Bhutan in developing the man power required and that Bhutan is looking forward to it.
"We are very happy to report that Prime Minister Modi's visit which was for only two days was a successful visit in terms of what we wanted to get and what we could give, mainly in terms of heart-to-heart connection," said Lotay Tshering while addressing a press conference in Paro after Modi's departure."
The theme of the visit is human touch, though the visit was an official visit from our side and from Prime Minister Narendra Modi's side, it was a very-very spiritual and friendly visit," he added.