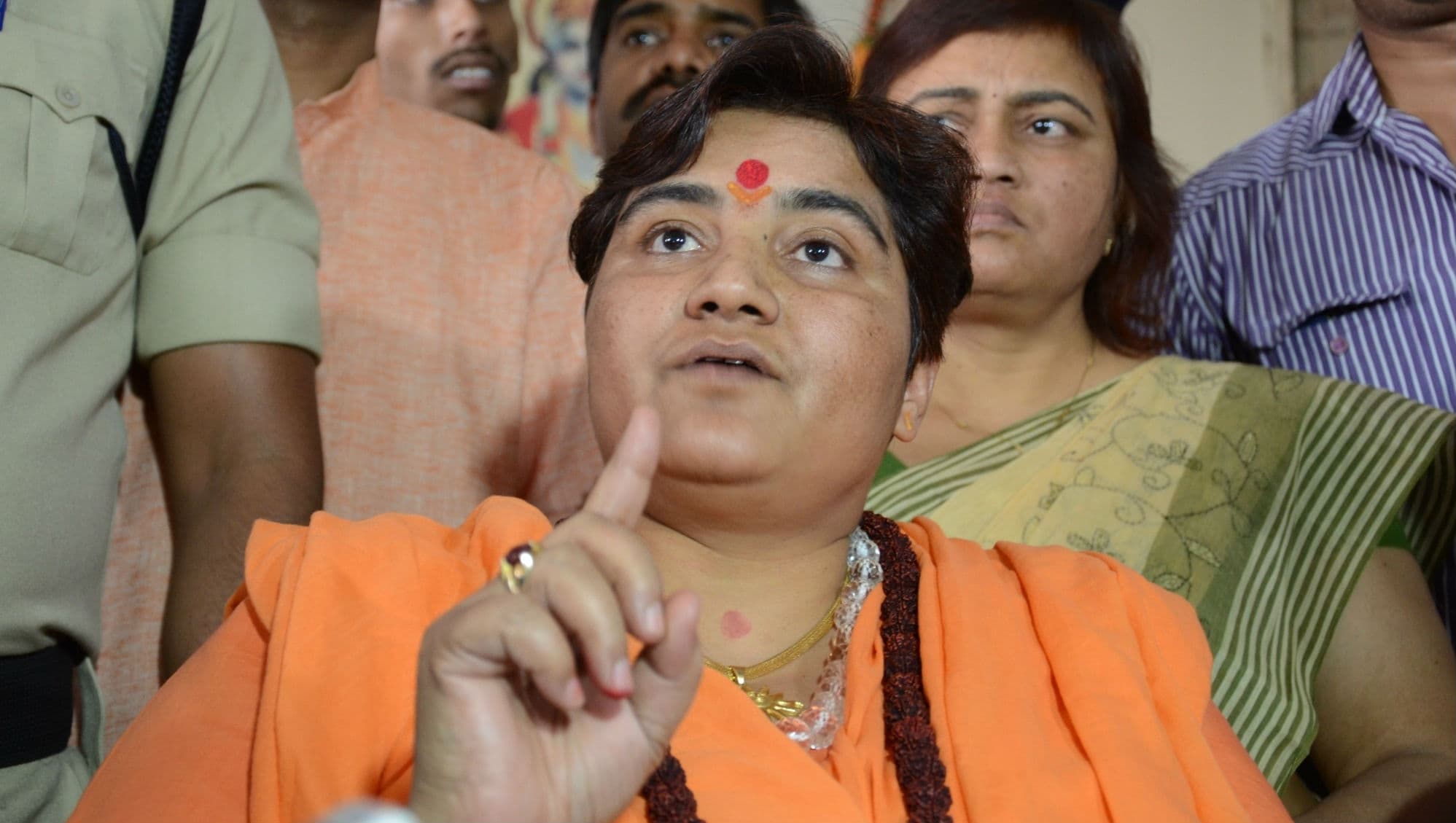 New Delhi, November 21: Pragya Singh Thakur, controversial BJP MP was nominated to the Parliamentary Consultative Committee of the Ministry of Defence on Thursday. The  21-member parliamentary consultative committee is headed by Union Defence Minister Rajnath Singh.
Pragya defeated former chief minister of Madhya Pradesh and Congress leader Digvijaya Singh in the Lok Sabha elections held earlier this year. Thakur is an accused in the Malegaon blasts case and had often hogged headlines for her controversial comments. Pragya Thakur Blames Opposition for Deaths of BJP Leaders Arun Jaitley and Sushma Swaraj, Says Party Is Facing a Bad Time and Is Under Evil Spell; Watch Video.
Her comment that  Mahatma Gandhi's assassin Nathuram Godse was a patriot stirred a lot of outrage, and infact even after she apologised, PM Narendra Modi said he would never be able to forgive Thakur for what she said.
She faced a lot of public anger when she said that Maharashtra ATS chief Hemant Karkare was killed in the 26/11 Mumbai terror attacks due to her "curse". "Hemant Karkare falsely implicated me [in Malegaon blasts] and treated me very badly. I told him your entire dynasty will be erased. He died of his karma," Sadhvi Pragya said. Thakur Apologises, Calls 26/11 Mumbai Attacks Hero Hemant Karkare a 'Martyr'.
She also attributed the deaths of Sushma Swaraj and Arun Jaitley to 'marak shakti'. She was quoted saying, "Once a Maharaj Ji told me that bad times are upon us and opposition is up to something, using some 'marak shakti' against BJP. I later forgot what he said, but now when I see our top leaders leaving us one by one, I am forced to think, wasn't Maharaj Ji right?",
Reportedly, Thakur was granted bail by the Bombay High Court on health grounds in April 2017 after charges against her under the Maharashtra Control of Organised Crime Act were dropped by the National Investigation Agency. She is currently under trial for multiple charges under the Unlawful Activities