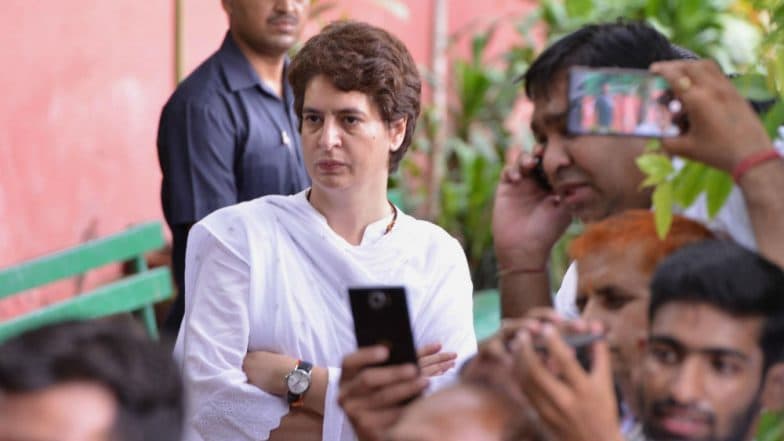 New Delhi, August 19: Congress General Secretary Priyanka Gandhi Vadra on Monday hit out at the Modi government over job losses and shutting of firms in the country. Sharing photos of multiple reports on companies cutting staff and unemployment by a Hindi news daily, Priyanka Gandhi asked why the Bharatiya Janata Party-led government is "silent" on the economic slowdown.
"The government's silence is dangerous. Companies aren't functioning. People are being terminated from jobs, yet the BJP government is silent. Who is responsible for this deep slowdown that the country has slipped into?" Priyanka Gandhi asked. One of the reports shared by the Congress leader said the demonetisation, announced by Prime Minister Narendra Modi in 2016, ate jobs of around 1.10 crore people. Priyanka Gandhi Lambastes BJP After Unnao Rape Accused MLA Kuldeep Sengar's Picture Featured in Poster With PM Narendra Modi.
Priyanka Gandhi's Tweet:
सरकार की घोर चुप्पी खतरनाक है।कम्पनियों का काम चौपट है। लोगों को काम से निकाला जा रहा है, भाजपा सरकार मौन है।

आखिर देश में इस भयंकर मंदी का जिम्मेदार कौन है? pic.twitter.com/BfbEuMIAXV

— Priyanka Gandhi Vadra (@priyankagandhi) August 19, 2019
Another report, shared by Priyanka, said unemployment rate rose among educated youths under the BJP regime. According to recent reports, over 286 auto dealership outlets stopped production in the last 18 months, leading to losses of 15,000 jobs over the last quarter. According to auto industry body SIAM, the sale of automobiles in India has dropped by 18.71 per cent, which is the sharpest decline in nearly 19 years. Priyanka Gandhi Booked in Bihar for Her Tweet on Pehlu Khan Lynching Case.
On Sunday, Priyanka slammed the BJP-led Yogi Adityanath-led government for failing to maintain the law and order situation in Uttar Pradesh. "Now what will you call this system where every day is a period of mass killings. People with the responsibility to stop crimes are involved in covering it and Uttar Pradesh is a crime state!" she tweeted in Hindi. Her remarks came after a journalist and his brother were shot dead in Saharanpur.