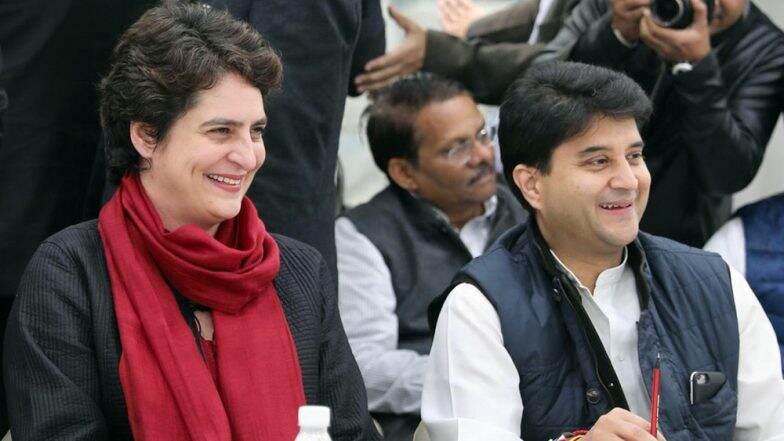 New Delhi, February 8: In the run-up to the upcoming Lok Sabha Elections 2019, Congress President Rahul Gandhi, during the strategy meeting on Thursday said he did not expect a 'miracle' from Priyanka Gandhi Vadra and Jyotiraditya Scindia in two months and that they should not feel any pressure about it. Priyanka and Scindia are the newly inducted Congress general secretary in-charge for Uttar Pradesh East and West respectively. During her first official meet, Priyanka Gandhi, in a clear message to party leaders, said she had vowed to fight the ideology of the Rashtriya Swayamsevak Sangh (RSS) and the Bharatiya Janata Party (BJP). Rahul Gandhi Responds to Narendra Modi's 'Ulta Chor Chowkidaar Ko Daante' Remark, Says 'PM Handed Rs 30,000 Crore to Anil Ambani'. 
According to reports by IANS, Priyanka was allotted a seat away from Rahul during an important party meet at the party headquarters on Thursday. She was given a seat next to Jyotiraditya Scindia, General Secretary in charge of western Uttar Pradesh while Rahul Gandhi, K.C. Venugopal, Ghulam Nabi Azad and Mallikarjun Kharge were seated on the front. Rahul Gandhi Challenges Narendra Modi For a 10-Minute Debate.
Take a look at the tweet:
Congress President @RahulGandhi and senior leaders from the party attend the AICC General Secretaries & Incharges meeting at AICC headquarters. pic.twitter.com/9MJ6LYdn3R

— Congress (@INCIndia) February 7, 2019
According to political observers, Priyanka was deliberately not seated next to Rahul but away from him to give a message to senior party leaders that as the All India Congress Committee (AICC) Secretaries, they are as important as Priyanka Gandhi who is also a General Secretary. Both the newly inducted leaders were allocated to both, Priyanka and Jyotiraditya Scindia. Soon after her appointment at the General Secretary, Priyanka was allotted a room next to that of Rahul Gandhi's at the AICC headquarters. Meanwhile, Scindia was also allotted an office in the same room. Congress Transition Post Sonia Gandhi: Priyanka Gandhi Vadra Gets Room at AICC Next to Rahul Gandhi.
Reports inform that Priyanka Gandhi will hit the campaign trail with brother and party President Rahul Gandhi in battleground Uttar Pradesh with a roadshow in Lucknow on February 11. Both the Gandhis along with General Secretary for west Uttar Pradesh Jyotiraditya Scindia will lead the roadshow from Lucknow airport to the state Congress office where they will interact with the media.