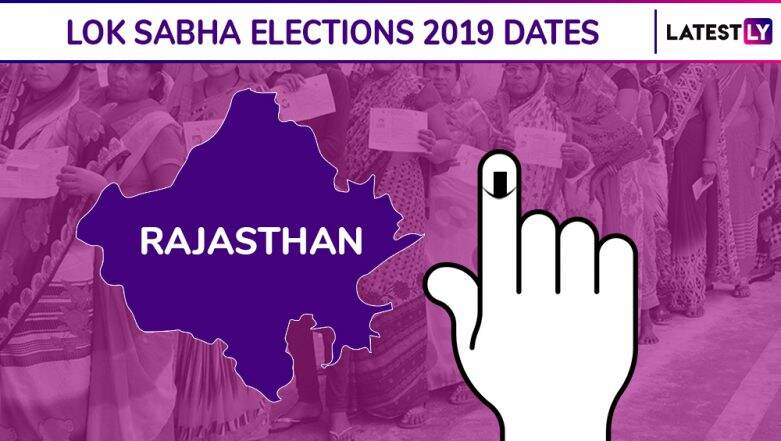 The Election Commission of India (ECI) on Sunday announced dates for Lok Sabha elections in Rajasthan. The elections in the state will be held in two phases. The polls in the state for 13 seats will be held on April 29 while that for 12 seats will be held on May 6. The counting will be held on May 23. The Election Commission on Sunday announced that the 17th Lok Sabha polls will be held in seven phases. The first phase of voting will take place on April 11 while the last phase will be held on May 19. The results of the election will be announced on May 23. Lok Sabha Elections 2019 Schedule: Voting In 7 Phases From April 11 to May 19, Counting And Results On May 23; Check All Dates For General Elections.
Phase-wise Constituency-wise Election Dates in Rajasthan
Phase IV (Voting on April 29): Tonk-Sawai Madhopur, Ajmer, Pali, Jodhpur, Barmer, Jalore, Udaipur, Banswara, Chittorgarh, Rajsamand, Bhilwara, Kota, Jhalawar-Baran
Phase V (Voting on May 6): Ganganagar, Bikaner, Churu, Jhunjhunu, Sikar, Jaipur Rural, Jaipur, Alwar, Bharatpur, Karauli-Dholpur, Dausa, Nagaur
In Rajasthan, the Lok Sabha elections 2019 will witness a direct fight between the Congress and the BJP in Rajasthan. There are in all 25 Lok Sabha seats in the state while the number of voters in the state are 48,479,229, reports informed. From the Congress, key players in the state include Ashok Gehlot, Sachin Pilot, Harish Meena, Namo Narayan Meena, Manvendra Singh, Harish Choudhary, Mahesh Joshi while from the BJP, candidates include Vasundhara Raje, Gajendra Singh Shekhawat, Rajyavardhan Singh Rathore, Arjun Meghwal, PP Chaudhary. Lok Sabha Elections 2019 Schedule: Polls Will be Held in 6-7 Phases, Dates to be Released in 1st Week of March.
Lok Sabha Elections 2019 Schedule And Dates: Voting In 7 Phases, Results On May 23 (Watch Video):
State Congress chief Sachin Pilot said the party will contest all 25 Lok Sabha seats in the state in the upcoming elections."Selection of nominees is in the final stage and a lot will be clear after the screening committee meeting on March 8 in New Delhi," Pilot told reporters. This has put massive pressure on the other secular parties to accept an alliance and have forced them to agree to a limited number of seats.
Pilot said the selection of candidate would be done on the basis of feedback of party workers, hard work and winnability. The party is of the opinion to find nominees other than the family members of leaders, sitting parliamentarians and legislators and those who lost elections in the past.