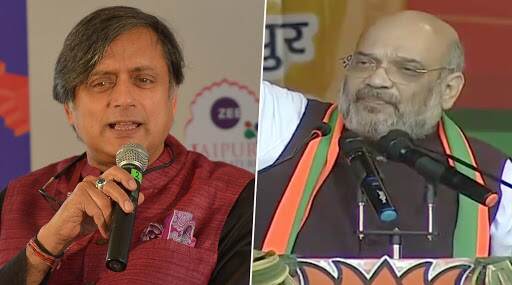 New Delhi, December 10: A day after the Narendra Modi-led Central government managed to sail through the controversial Citizenship Amendment Bill 2019 in Lok Sabha, Congress parliamentarian Shashi Tharoor took a scathing jibe the Union Home Minister Amit Shah stating that the later not pay attention during history class. He was commenting on Shah's comments where the Minister had said that Congress had divided India on religious lines during the partition of 1947.
Expressing his views at the Network18's Lokmat Conclave in Mumbai on Tuesday, Tharoor said, "Amit Shah did not pay attention during history class; it was the Hindu Mahasabha which backed the two-nation theory." Calling the CAB 2109 an assault on the Constitution, Tharoor said, "The Citizenship Amendment Bill is an assault on the Constitution. We must create a free India for everyone…we cannot divide the nation into religious lines." Citizenship Amendment Bill: Can BJP Pass Rajya Sabha Test? Will Shiv Sena, JD(U) Play Spoiler? Know The Number Game.
Earlier on Monday, opposing the CAB 2019 in Lok Sabha, Tharoor had said, "Those who believe religion should determine nationhood, that was the idea of Pakistan. The bill endorses the idea of religious discrimination by allowing individuals of only six religious identities to acquire citizenship while excluding the individuals belonging to other religious identities."
While replying to the Congress allegations in Lok Sabha on Monday, the Home Minister had said, "Why do we need this Bill today? After Independence, if Congress had not partitioned the country on the basis of religion, today we would have not needed this Bill. Congress did partition on the basis of religion."
The Citizenship (Amendment) Bill, 2019, seeks to provide Indian nationality to Hindus, Christians, Sikhs, Parsis, Jains and Buddhists fleeing persecution in Pakistan, Afghanistan and Bangladesh. As per the Bill, those illegal migrants who have entered India up to the cut-off date of December 31, 2014, to seek shelter, and continued to stay without proper documentation, will be eligible for Indian citizenship. The legislation is criticised for leaving out Muslims sects such as Shia, Ahmadi and Balochs, Tamilian from Sri Lanka and other religious minorities facing persecution in neighbouring countries.