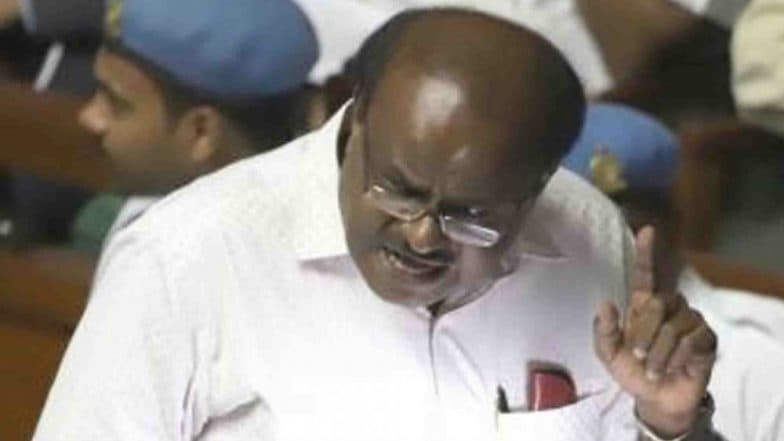 Bengaluru, February 11: A day after Karnataka BJP chief BS Yeddyurappa admitted meeting a Janata Dal (Secular) MLA, state chief minister HD Kumaraswamy on Monday ordered an SIT probe into an audio clip about Yeddyurappa's alleged bid to destabilise the coalition government in the state. Kumaraswamy made the announcement in the state assembly after Speaker Ramesh Kumar suggested a special investigation team probe the episode to "establish the truth" as his name has also been dragged into the row.
As BJP legislators said the probe should be limited to the charge against the Speaker, visibly anguish Kumar told Kumaraswamy that "this (SIT) should not lead to a witch-hunt. The probe should be only to establish the truth." On Sunday, Yeddyurappa admitted that he met JD(S) MLA Nagana Gouda Kandkur's son Sharan Gouda, accusing Kumaraswamy of indulging in ''third grade'' politics. The former Karnataka chief minister alleged that the audio clip was part of a conspiracy hatched against him by Kumaraswamy. Karnataka Coalition Government in Minority, Claims BJP as 9 Congress MLAs Skip Assembly Session.
"The Chief Minister is doing third-grade politics. He is indulging in blackmail, conspiracy. The Chief Minister had himself sent the MLA's son (Sharan Gouda) to the guest house where I was staying at around 12:30 in the night and made him speak to me. They have kept the part of discussion (in the tape) that they needed as record, leaving the rest," Yeddyurappa said. Pointing out that the Chief Minister had himself claimed that he had sent the MLA's son to him, Yeddyurappa said, "It is true that he (Sharan Gouda) had come and spoken to me."
Kumaraswamy had on Friday released the audio clip in which Yeddyurappa is purportedly trying to lure JD(S) MLA Nagana Gouda through his son. Yeddyurappa, who is at the vortex of the row over his alleged bid to poach the ruling coalition MLAs for the past few weeks, was quick dismiss the clip as "fake" and a "concocted story". "I will retire from politics if it (the allegation) is proved If I had spoken like this(about the speaker), if it is proved, I will resign as an MLA and quit politics," he had said. Congress Hits Out at PM Narendra Modi Over Audio Clips Released by Karnataka CM.
Kumaraswamy on Saturday also said he would retire from politics if it was proven that the audio clip was mimicry and concocted. "I am stating from this place… if it is proved that it was not Yeddyurappa who had spoken and that it is mimicry or parody by Kumaraswamy, then it is not about his retiring, I will retire," the chief minister said.