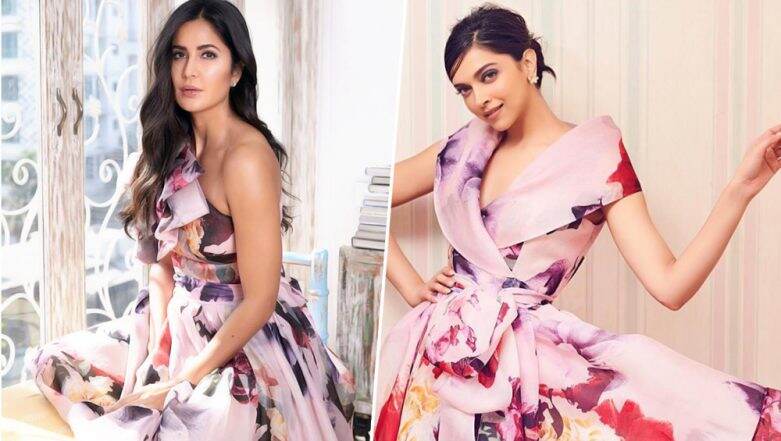 In the world of fashion, it's easy to fall in love with the same designs. Your contemporary can have a similar taste like yours or her stylist can pick the same damn outfit for her. But it's high time we stop tagging these face-offs as taboo. It's pretty natural and only humane! If Beyonce can go ahead and pick Deepika's famous fuschia tulle gown by Ashi Studio, it shouldn't be a big deal for other B-town beauties to ape each other's styling. And Katrina Kaif clearly has no qualms about it. Cannes 2019: Amul Pays a Very Cool Tribute to Deepika Padukone and Aishwarya Rai Bachchan's Fashion Outings.
Katrina Kaif in Gauri & Nainika
The Bharat actress is currently neck deep in her promotional work for the next release. And it was for her same promotional outing that she chose a pretty one-off shoulder floral ensemble from Gauri & Nainika's latest creation. The tropical design, typical print against a lavender backdrop and a flowy silhouette was soothing for our eyes and we are glad for she decided to break the rut. Kat was willing to ditch all her peculiar designs and red dresses for her new fashion outing that was equal parts chic and charming. Bharat: Katrina Kaif Steps out Wearing a Sabyasachi Mukherjee Saree and All We Can Say is 'Mashallah' - View Pics.
Deepika Padukone in Gauri & Nainika
However, Deepika was quick to spot this alluring design and pick a very similar attire for one of her past outings. Though the silhouette is slightly different, the print and the backdrop are very much alike. Yea, the outfits look distinctly different yet the similarities between them are uncanny. And while we personally adored the Zero actress, do you think Deepika Padukone justified it better? Tell us your opinion in the voting section below.
Who nailed this Gauri & Nainika creation better?