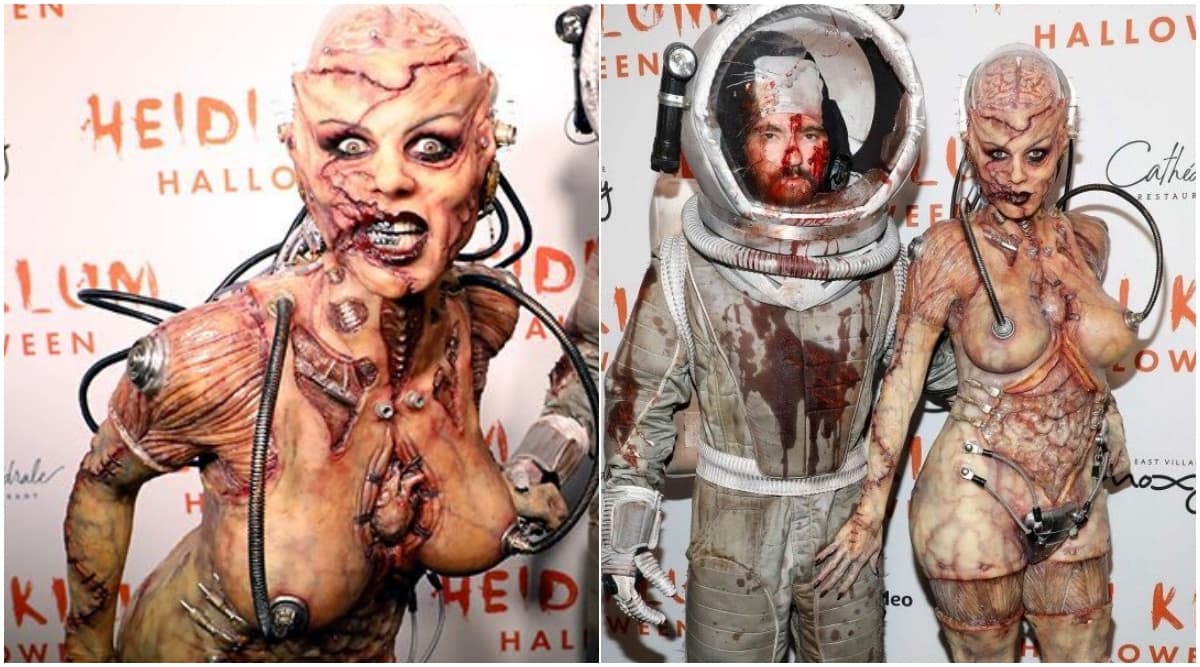 Supermodel-turned-TV star Heidi Klum knows how to do Halloween right. Over the years, she has shown the best of the creepiness that she can carry off during the spookfest. Halloween 2019 was no different as the supermodel donned a mix of what looked like an alien, a zombie, with a bit of Frankenstein feels to it. The costume looked gory but sexy too. She made this freaky appearance at the 20th annual Halloween party and made heads turn. Heidi Klum's Love For Halloween Is Unconditional; Here Are 7 Best Halloween Costumes Donned By The Diva So Far!
Speaking to PEOPLE she revealed that her husband Tom Kaulitz's band Tokio Hotel was the inspiration behind this extra-terrestrial costume inspiration. Kaulitz's band members firmly believe in aliens and her husband dressed up as an astronaut, who had brought her (Heidi) as an alien from the outer planet. Heidi's look literally spooked out with the fake skin, visible brain and intestines, tubes attached to her breasts and black nails, lips and eyes. She outdid herself and rightly fits the title of the Queen of Halloween.
Check Pics of Heidi Klum's Halloween 2019 Costume:
View this post on Instagram
Posing With Her Husband
View this post on Instagram
Heidi even gave some sneak peek into how much time and effort went in the making of this costume on her Instagram.
Check Heidi Klum's BTS Video of Her Halloween Costume:
View this post on Instagram
She spent more than 12 hours in the chair with her team applying prosthetics and perfecting the makeup. The video clearly shows the effort that went into making this heavy costume but the supermodel proved she really is the queen. In the past, she has donned the looks of an old woman to depicting the human muscular system, Heidi is known to go the extra mile for every Halloween.