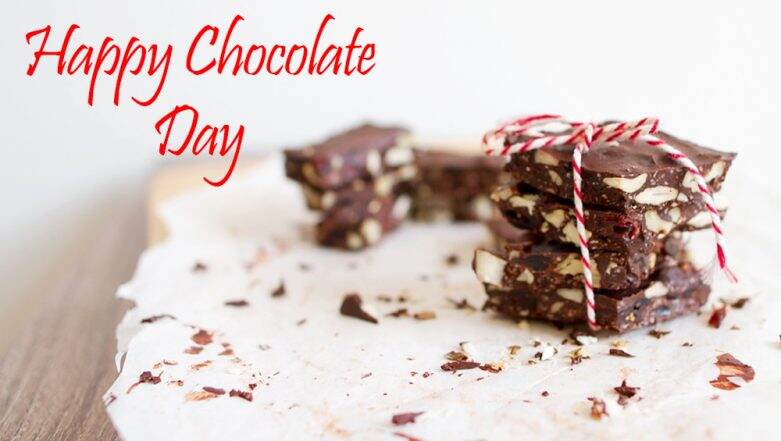 Chocolate Day is just around the corner and time to exchange some sweetness in the form of chocolates. While there are so many different types of chocolate available in the market and online, nothing beats some super amazing homemade chocolates. They are not just super tasty but also healthier than the ones you buy from the market. Since you make them at home, you have pure control over the ingredients, unlike the ones that are found in the market that are extremely rich in sugar and oils. It is always better to make chocolates at home in small quantities so that you can enjoy some fresh ones easily sans unhealthy preservatives. Chocolate Day 2019 Date and Significance: Romantic Quotes and Chocolate Gift Ideas to Give Your Partner A Lovely Surprise!
Moreover, making chocolates at home is no rocket science. It is easy and also helps you have some fun at home while making chocolates. Making chocolates is also therapeutic. Here are some of the best chocolate recipes you can try this Chocolate Day.
Homemade Chocolate with Four Ingredients
All you'll need is 3/4 cup of cocoa powder, 1 cup powdered sugar or icing sugar, 1/3 cup milk powder, 3/4 cup unrefined virgin coconut oil/Cocoa butter/vegetable shortening and optional 2 Tbsp Chopped nuts.
Here's the video:
Homemade Chocolate Bar Recipe
With simple ingredients such as 1/4 cup butter melted in a double boiler, 3 tablespoon cocoa powder, 3 tablespoon powder sugar sieved well all you have to do is pour into a silicon chocolate bar mould and keep it in the fridge for 1-2 hour carefully remove it from the mould.
Here's the video:
Homemade Dark Chocolate Recipe
This chocolate recipe also needs simple ingredients such as dark chocolate, dry fruits such as Almonds (Badam), Cashew nuts(Kaju) and Raisins (Kishmish) and an Ice tray or mould. Try making it at home.
Here's the video:
Homemade Chocolate Without Oil or Butter
Why use oil or butter when you can use ghee? This recipe requires readily available ingredients such as vanaspati ghee ( Dalda ) - 2 & 1/2 Tbsp, Cocoa Powder - 3 Tbsp, Icing Sugar - 1/4 Cup, Vanilla Essence - 1/2 Tsp.
Here's the video:
Home Made Assorted Chocolates
Assorted chocolates don't just taste good but are also amazing to look at. The recipe involves simple ingredients such as, chocolate compound ( any good quality chocolate,) double boiler or microwave, moulds ( different attractive moulds), any flavoured crunch available in the market, e.g. butterscotch, wheat crunch etc. (all the variation in the chocolate can only be done by choosing flavours.)
Here's the video:
Opt for more organic and low sugar chocolates for a healthy lifestyle. We wish happy chocolate day to everyone. Hope you lives become as sweet as the chocolates you eat.