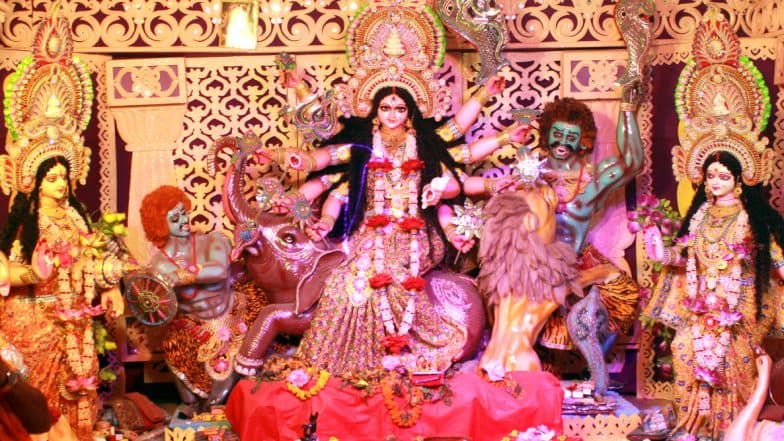 The Hindu festival of Durga Puja is approaching, and the nation is painted in the festive spirit. This year, Durga Pujo will be celebrated from October 4 to October 7 followed by the grand immersion of Maa Durga idols on October 8. It is the celebration of the Mother Goddess and the victory of the revered warrior Goddess Durga over the evil buffalo demon king Mahishasura. Days before the festivities, there is an electrifying energy in the air. Much like the traditions, Maa Durga aagman and her mode of transport are equally important. This year, the Goddess is arriving and leaving on a horse, and it holds a great significance. But it is not considered to be a good omen.
Durga Pujo ranks among the popular festivals in India. It is widely celebrated in West Bengal and the eastern parts of the country. Immense fanfare and celebration take place during the Durga Puja celebrations. Elephant, Horse, Palanquin or a Boat play as the Durga vahana for the Goddess. The mode of transport of Durga Aagman indicates the fate of the days ahead. Durga Puja 2019 Special: Breastfeeding Centre to Be Built for Mothers & Newborns at Kolkata Pandals. 
Maa Durga Vahans & Its Significance
Horse: The animal in this context signifies destruction. If Goddess Durga is arriving on this mount, it's a warning on an impending doom.
Elephant: Maa's arrival on an elephant indicates prosperity and good harvest season. The Goddess arriving or departing on this Vahan means she will be filling her devotees' life with good deeds, blessings, results of your hard work and happiness.
Palkhi or Palanquin: Palkhi is represented to be lifted by four men carrying a person on a haulier. If Maa Durga's mode of transport is Palkhi, it interprets that unless humans help each other and stand united, the upcoming days would be their toughest journey.
Boat: Maa Durga arriving on a boat here represents flood and misery among people. Heavy rainfall is expected during the festival, if she chooses boat as her mode of transport.
Every year, Maa Durga arrives and departs on two different Vahans. But whenever she chooses to stick to one particular ride both the times, it means doomsday. Aside from religious beliefs, Durga Puja is a significant celebration in India that brings a lot of joy among the families.