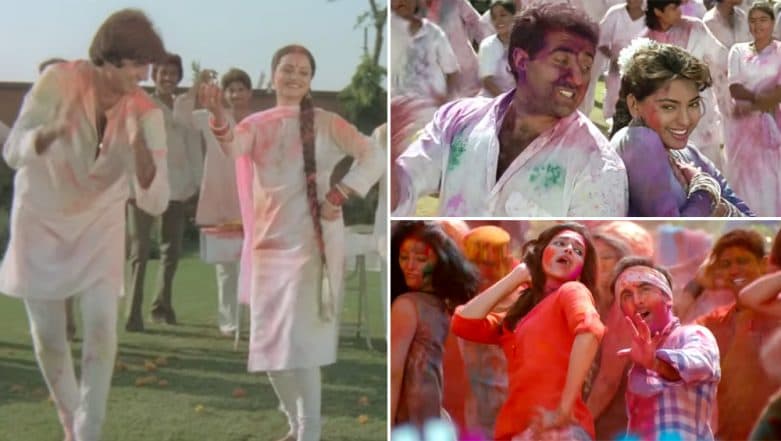 Happy Holi 2019! Gulaal (colours), the pichkaris and the water balloons are out as people in India gears up to celebrate Holi. The festival of Holi is being celebrated on March 21 this year. While Holika Dahan will take place on March 20, Dhulandi will be played on March 21. If you're looking forward to hosting the perfect Holi party, it's time you get your playlist ready. The festival of Holi has indeed been among favourites when it comes to Bollywood films. Thanks to this fondness for the colours, Bollywood has given us some of the best old and new Holi songs over the years. Holi Marathi Songs 2019: Ala Holicha San Lai Bhaari, Kheltana Rang Bai and Other Numbers That Will Make this Festival of Colours Musical! (Watch Videos).
From grooving to Balam Pichkari to flirting around with Ang se Ang and tiptoeing to Let's Play Holi, Bollywood is full of some great feet tapping numbers for the festival of colours. Even as new Holi songs continue to be added to the list, some of the melodies like Rang Barse and Holi Ke Din remain timeless. Travel Tip of The Week: Things to Keep in Mind If You Are Traveling to Celebrate Holi.
Top Holi Songs From Bollywood
Rang Barse
Starring Amitabh Bachchan, Rekha, Jaya Bachchan and Sanjeev Kumar, Rang Barse from the 1981 Yash Chopra movie Silsila remains a Holi classic. It's been years to this song, yet people love crooning it around this time of the year. People, in fact, try to imitate the voice of Amitabh Bachchan when they sing the song.
Holi Ke Din
The song Holi Ke Din Dil Khil Jaate Hain from the superhit film Sholay is another Holi classic that is played at parties even today. The song has Dharmendra and Hema Malini dancing around as Amitabh Bachchan and Jaya Bachchan watch each other.
Ang Se Ang Lagana
Starring Juhi Chawla, Sunny Deol and Shah Rukh Khan, this Holi song from the 1993 film Darr gets everyone to tap their feet on the festival of colours. Ang se Ang lagana definitely remains another timeless Holi song.
Let's Play Holi
'Do me a favour, let's play Holi', if you're not crooning that song in the typical Anu Malik style, you're doing it all wrong. Starring Priyanka Chopra and Akshay Kumar, this is one song that you can love or hate but cannot ignore since it plays at every single Holi party around. The song is from the 2005 movie Waqt. 
Holi Khele Raghuveera
Amitabh Bachchan + Holi = Superhit Holi Song and this is exactly what the song Holi Khele Raghuveera from the film Baghban is. Adding more flavour to the song is Hema Malini, making the song a not to be missed melody at a Holi party.
Balam Pichkari
If there's one song that'll make every single person dance at your Holi party, it is Balam Pichkari. Starring Deepika Padukone, Ranbir Kapoor, Kalki Koechlin and Aditya Roy Kapoor, this song from Yeh Jawaani Hai Deewani is young, colourful, peppy, happy and everything that you want of a party number. The hook step of the song is something everyone remembers and does when the song plays at Holi parties.
Lahu Muuh Lag Gaya
This song from the film Goliyon Ki Raasleela Ram Leela, starring Ranveer Singh and Deepika Padukone, this Holi song is steamy, sensuous and romantic. It has to be a part of your Holi playlist because it's more than just another dance number.
There are many more Holi songs like Dekho Aayi Holi from Mangal Pandey, Soni Soni From Mohabbatein and Are Jaa re Hat Natkhat from Navrang. This Holi, ensure you have this perfect Bollywood playlist ready to hit the dance floor.